Geoffrey Coates '89 Earns Professor Status at Cornell
by Aaron Hunckler • January 9, 2006

Share:
Production and disposal of oil-based plastics: environmentally harmful.
Production and disposal of nature-based plastics: environmentally beneficial.
Discovering a way to make plastics from bio-renewable resources: sweet.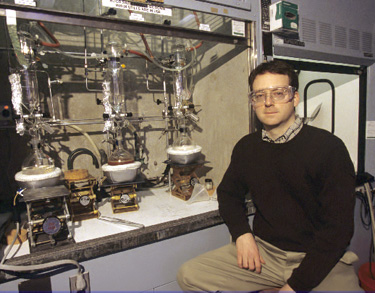 Geoffrey Coates, '89, and his Cornell University research team have found a way to produce plastics using oranges and carbon dioxide.
"We are really trying to do two things at once," Coates said. "We are trying to use renewable resources and we are trying to put those together to make plastics that when they are done being used they are biodegradable."
Many disposable plastic products made today can be traced back to oil as their primary source of carbon. Their synthesis produces carbon dioxide (CO2)—an environmentally harmful greenhouse gas.
Coates and his team have addressed this problem and have developed an alternative by making polymers using limonene oxide, derived from orange peels and CO2, and a catalyst.
"In our work we get these small molecules, such as like lactic acid or limonene and we look for ways to turn them into polymers," the Cornell pre-med chemistry professor said. "A polymer is a much bigger molecule. They are the result of hooking a bunch of little molecules together and it's not unlike putting beads on a string. The beads would be what we call monomers, the small molecules, and the chain of beads is the ploymner. These molecules don't just spontaneously hook themselves together; they require an external stimulus, which is known as our catalyst."
Coates' expertise lies in figuring out what catalysts will make these reactions occur.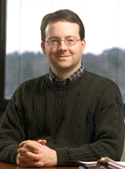 Having earned his BA in Chemistry from Wabash, doctorate from Stanford, and extended postdoctoral research work with 2005 chemistry Nobel prize winner Robert Grubbs at the California Institute of Technology, Coates has had the opportunity to learn and work in exceptional company, himself included. Coates propelled himself to professor status in 2002 after just five years at Cornell. Typically it takes two or even three times as long.
"I got some really good students, projects worked really well and the department decided that I had done enough research to be given tenure," Coates said modestly.
Rapid advancement in any endeavor is usually correlated to a person's work ethic, skills and ability. Coates graduated summa cum laude with distinction in comps from Wabash and it was there that he received great preparation for future life.
"When I went to Stanford, I walked in day one and was petrified because there were kids there who went to Harvard, Princeton, and many other top universities," Coates recollected. "We all had to take standardized tests the first three days we were there…I took all three of the tests and not only passed them but on one of them I got the highest score of all the incoming students. Looking back to the Wabash education, it's an amazing education from day one until the comprehensive examinations. I think comps are something the school should hang onto, they are very unique and very valuable."
Hunckler is a free-lance writer based in Bloomington, Ind. Photos courtesy Cornell University.