Junior Ahmed Twins Adapted Quickly to Wabash
by Jeremy Sexton • January 1, 2006

Share:
Tahir and Zuber Ahmed still find time to play a round of golf on the weekends despite that they are two of the busiest students on campus. Tahir and Zuber both major in economics and are members on the Little Giant soccer team.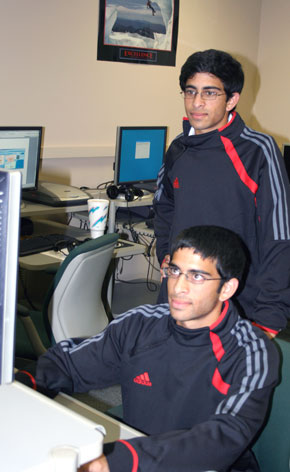 "You're just so busy with work and with classes and with homework it's hard to find any time to do anything else," the identical twins agreed, "but honestly it is all worth it and we're happy to be here."
Both Tahir and Zuber spent their youth in boarding school in West Bengal, India, and now find themselves at Wabash College.
"Wabash is very different than boarding school because we find ourselves having so much more freedom," Tahir said. "Wabash gives you a lot of liberty but you have to be responsible with what you do with it."
"We heard about Wabash College from the Princeton Review. We were considering many other schools such as Denison, Manchester, and Depauw," Tahir said, "Wabash gave us everything we wanted and more and we couldn't be happier. Wabash was our first choice. When you go to a big university it is so easy to get lost, and so hard to get oriented with everything that is happening on campus, but at Wabash they encourage you to get involved."
Tahir and Zuber have been busy over their first two years at Wabash College. During the summer of 2005 the two participated in the first Present Indiana Project as part of the Lilly Endowment grant. Also, during the 2004-2005 school Tahir and Zuber initiated a fundraiser selling shirts to raise money for the victims of the massive tsunami that devastated much of Asia. Collectively they helped raise over $1,500 for the Red Cross.
"Tahir and Zuber are ideal international students for Wabash College," said David Clapp, Director of Off-Campus Studies & International students. They work hard at everything they do, have wonderful attitudes, give generously of their time, and make friends wherever they go."
But the twins admit it's not always easy.
"It's hard being so far away from home for such a long time, but we know and appreciate the fact our parents support us one-hundred percent," Zuber said. "We also have made a ton of great friends at Wabash who also support us and will last a lifetime. But the one thing we do miss from home is the food. The food in America just isn't spicy enough for us"
Tahir and Zuber will not graduate until 2007, but like most Wabash men they too are thinking about their futures.
"We would really like to go to graduate school in the United States because that is what Wabash has prepared us for." Zuber said. "We are really looking forward to what the future holds.
Tahir agrees, expressing confidence in he and his brother's ability to adapt. "Whatever either one of us does I know we'll be good at it."
Sexton is a Wabash College junior and English major.