Fire Destroys Crawfordsville's Country Club Clubhouse
by Wade Coggeshall • December 28, 2005

Share:
Crawfordsville Country Club's clubhouse, once Gen. Lew Wallace's summer home, is no more after a weekend fire.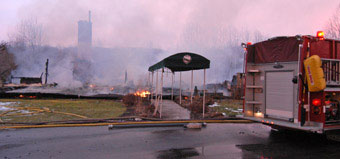 The Crawfordsville Fire Department received a 911 call at 5:12 a.m. Saturday from a resident near the country club who reported seeing flames shooting from the clubhouse's roof. Within an hour of the fire department¹s arrival, Fire Chief Todd Barton said the building had burned to the ground. No one was inside at the time and no injuries were reported. The building is a total loss.
"It just doesn't take that long (for fire to spread) in that kind of building," Barton said. "It's a very old building, and it was built before fire codes were really practiced. It was up to the code it needed to be up to, it's just a building that fire is going to spread through very rapidly. It's not designed like modern buildings."
The clubhouse's location was a further impediment for firefighters attempting to battle the blaze. The clubhouse was located away from the road in a wooded setting, making it difficult for the fire department to drive trucks close by, and it was in an area without access to city water. Madison
Township Fire Department brought two tanker trucks. Fire departments from Waynetown, Ripley Township, New Market and Waveland also assisted. The blaze was so widespread by the time emergency personnel arrived that Barton said firefighters never were able to enter the building and push the fire out.
"We were kind of behind the eight-ball from the start," he said. So far the cause is undetermined. The state fire marshal's office has taken over the investigation, and was to begin sorting through the rubble Monday. The state bureau of Alcohol, Tobacco and Firearms may join the case too,
but only because the fire marshal has a policy of consulting that agency when a specific threshold of monetary damage is crossed.
"People shouldn't read into that, that we're thinking there was some sort of criminal activity," Barton said. "That's really not the case. We just want to make sure we cover all our bases.
"I know there's all kinds of rumors going around town about what could've happened, but it's important for people to know at this point we haven't ruled anything out. We¹re going to go through everything and see what we can come up with."
Barton said the damage estimate is complicated by the building's notable significance.
"There were some historical documents and things like that in there that are really hard to place a value on," he said. "Instead of saying, 'This is what it¹s going to cost to replace it,' some of that stuff can't be replaced."
Gary Isenberg, president of the country club's board, said the loss is devastating to everyone.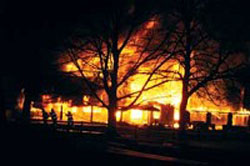 "It's a tragic loss, not only to members of the club but to the community," he said. "It was used by members and the entire business community. But we are committed to rebuilding and moving forward."
A special meeting of the club's membership is set for 7 p.m. Jan. 10 in the Elks building. "We look forward to receiving support from our members and the entire community,"Isenberg said.
The board met in an emergency meeting Saturday, and plan to convene again on Wednesday. Country club employees have been assured they'll still have jobs, and employee issues are being handled on a case-by-case basis. No New Year's activities were planned at the clubhouse, though other events are now affected. Isenberg said organizers are being contacted.
Brandy Smith, an executive assistant at the country club, was at the site Saturday. She was alerted about the fire shortly after 5 a.m. that day.
"It's sad. We lost a lot," she said. "But we'll rebuild."
Coggeshall is a reporter for the Crawfordsville Journal Review. Editor Maria Flora contributed to this report. Top photo by John Flora for the Journal Review. Lower left photo was submitted to The Paper of Montgomery County by Stacy Sommer.