Wabash Center Receives $8 Million from Lilly Endowment Inc.
by Jim Amidon • December 22, 2005

Share:
The Wabash Center for Teaching and Learning in Theology and Religion has received an $8 million grant from Lilly Endowment Inc. to further the work of the Center, which was established on the Wabash College campus in 1996. It is the ninth grant from Lilly Endowment Inc. totaling $27.2 million in support of the Wabash Center's work.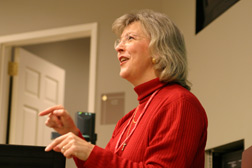 The Wabash Center for Teaching and Learning in Theology and Religion seeks to support and enhance education in North American theological schools, colleges, and universities. The Center builds enabling environments for good teaching and learning through offering studies, workshops, and conferences; issuing grants to faculty and institutions; by helping faculty utilize technology effectively; and publishing the international journal, Teaching Theology and Religion.
Lucinda Huffaker, director of the Wabash Center, said the new grant comes at a perfect time in the Center's life. "This comes on the heels of a commissioned external evaluation of the Wabash Center's programs," she said. "Now we have information and outcomes from past participants that demonstrate how influential our programs have been; we can see the significant impact the Center has had on teaching and the development of pedagogical practices among religion faculty across the U.S. and Canada who have been involved with the Wabash Center."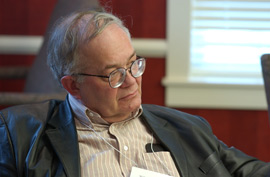 "Healthy religious institutions require effective leaders; perhaps most important of all, healthy congregations require effective pastors," said William Placher, LaFollette Distinguished Professor in the Humanities at Wabash and Chair of the Wabash Center Advisory Committee (pictured left). "Good theological teaching makes an important contribution to producing excellent pastors: good teachers inspire some of the best and brightest to pursue the field in which they teach, and good teachers prepare their students well for their vocations. In all sorts of ways, then, good teaching in theology and religion really does make a difference in the quality of educational institutions and thereby in the quality of the graduates they produce."
The Wabash Center's funding comes through Lilly Endowment's Theological Teaching and Sustaining Pastoral Excellence initiatives. In 1990, founding Director Raymond Williams led a series of workshops on teaching that were funded by Lilly Endowment and sponsored by the American Academy of Religion, which led to the establishment of the Wabash Center in 1996. Since that time at least 333 different institutions have benefited from the work of the Wabash Center and approximately 750 faculty members have taken part in programs on the Wabash College campus. The Wabash Center has awarded 466 grants totaling over $6.5 million; has sponsored over 200 different programs, activities, and conferences; and receives more than 5,000 weekly visitors to its website. Blackwell Publishers of Oxford calls Teaching Theology and Religion one of its most successful new publications.
"The $8 million grant will fund program activities for the next three years," said Huffaker. "We will continue the good programs we've developed, add a few new ones, and provide resources that will extend the impact of all that we are learning from recent research and studies funded by the Endowment and others." In addition to programming, Lilly Endowment funding enables the Wabash Center to provide more than $1 million annually in grants, ranging from $2,000 to $70,000.
The Wabash Center is staffed by Huffaker, the director; Associate Directors Paul Myhre and Tom Pearson; Rita Arthur, coordinator of grants and publications; Communications Coordinator Sherry Wren; and Administrative Assistant Trish Overpeck.
The Wabash Center for Teaching and Learning in Theology and Religion will organize its work in five specific program areas:
1) Workshops and other reflective practices on teaching and learning;
2) Development of the professoriate in theology and religion;
3) Sustaining empowering environments in theological schools and religion departments;
4) Using technology in theological teaching and learning; and
5) Creating scholarly literature on theological teaching.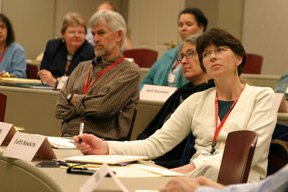 Workshops and conferences provide opportunities for faculty members to discuss teaching and learning in a variety of contexts and to share teaching resources. These workshops include programs for new faculty, helping ease the transition from graduate school to full-time teaching in seminaries or college religion departments, and colloquies for faculty in particular fields such as biblical studies or religious history.
The Wabash Center continues to provide opportunities every two years for representatives of the principal Ph.D. and Th.D. granting institutions (Yale, University of Chicago, Harvard, Princeton, etc.) to meet to share information, discuss best practices, and reflect on emerging issues and directions for programs preparing graduate students for teaching careers.
The Wabash Center sustains empowering learning environments for faculty by providing trained consultants to theological schools and religion departments to lead workshops and facilitate faculty conversation. Popular topics include ways technology can be used to enhance teaching and how teachers can address the learning needs of an increasingly diverse student population. A newly designed web site will expand the Center's service as a leading location for teaching and learning resources in these and other critical areas of pedagogy.
The final goal of the Wabash Center is to create a new generation of material, in a variety of genres, dealing directly with teaching and learning in specific contexts and disciplines. The Wabash Center both funds the publication of books, articles, and websites, and seeks to place useful resources in the hands of teachers. Furthermore, Teaching Theology and Religion has, in the words of David Ford, Regius Professor of Divinity at the University of Cambridge, become "the one journal that those who teach in this field must read."
"We are enormously grateful for good and meaningful work made possible by the vision and resources of others," said Huffaker. "We look forward to continuing that work for the attainment of our common goals."
For more information, contact Lucinda Huffaker at 765-361-6434.