Holidays on Campus Quiet for International Students
by Wade Coggeshall • December 21, 2005

Share:
Holidays for most usually mean time spent with family and friends. But for some Wabash College international students, it can mean long, boring days on campus with little to do, half a world away from their own families.
For local families with room at the kitchen table, it may be an opportunity to provide a young man with meaningful human contact, and a chance to learn about new cultures.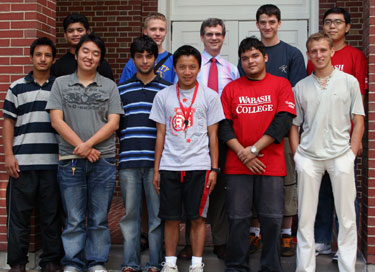 David Clapp, director of international students and off-campus studies at Wabash College, said the school has 37 international students on campus. Most are from Nepal, Vietnam, India and China. Of those 37, 12 are planning to stay on campus for the long winter break.
Clapp said boredom is more of an issue than loneliness for the students. Vu Tran, a junior math major and economics minor from Ho Chi Minh City, Vietnam, said it's tough going from a semester of near-constant study to completely open days.
"Suddenly you have a break and have nothing to do," he said. "It's really something you're not prepared for if you don't have plans. You don't prepare for those kind of feelings. If you have papers to write, you can work on those. But if you have nothing to do, you don't have anything."
On-campus jobs (students can work up to 40 hours a week during breaks) provide a bit of respite. But on longer intermissions, particularly Christmas, no classes and an empty campus can mean wide-open schedules.
Tran has stayed on campus before during holiday breaks, but for this Christmas plans to visit a friend in Florida. On other vacations he's traveled to Boston and California. When he's remained, Tran has been invited to dinners and movies by others at Wabash. His interactions with Americans have been largely positive.
"Most of the people are very nice and kind," Tran said. "I didn't know and expect that when I came to America that people would be that nice and caring about international students."
Crawfordsville resident Ralph Anderson and his family hosted two international students from Wabash last year, and plan to accommodate one of them again this year (the other dropped out of school). He considered last year's experience great, especially for his four grandchildren.
"The young men came into our home on the holidays and interacted with the children quite a bit," Anderson said. "The children just absolutely fell in love with them. One of the things that was amazing that I didn't even think about was that these young men come from typical families. They told me one time they miss the interaction with their own families. When they got to come into our home and interact with our grandchildren, it reminded them of home."
Not only does being a community friend to these students provide important companionship, it allows the participants to experience a bit of another culture, something Anderson discovered.
"Just by the conversations we have, we learned about their customs and what they would typically eat, how the holidays are in their countries, find out what they'd like to do after their Wabash years," he said. "They learn quite a bit too about our customs, so it's a two-way street. (The cultures are) quite different, but there's an acceptance of who they are and who we are."
Tran admits to feeling a culture shock when he first arrived here.
"I didn't know what to expect," he said. "Everyone's seen America through movies and TV, but you don't get to know the people. So it was completely different. Generally I've had very good experiences with people."
To find out more about being a friend to a Wabash international student, such as hosting dinner, inviting him to a public event or going shopping, call Clapp at 361-6078 or e-mail clappd@wabash.edu

Coggeshall is a reporter for the Crawfordsville Journal Review.
In photo: Clapp, center back row, with 2005's new international students.