Two Wabash Sophomores Head Special Olympics Effort
by Wade Coggeshall • December 20, 2005

Share:
Volunteerism is nothing new for Chris Geggie.
The Wabash College sophomore assisted a Special Olympics program through his Los Angeles high school. His Wabash fraternity, Sigma Chi, has been coordinating a state basketball tournament for special-needs children the past three years. So it's only natural Geggie would want to continue helping. But as this year's events coordinator, he wants to make the program bigger and better. But he'll need a little help.
Wabash hosts a basketball tournament Feb. 11 that features more than 400 athletes from all over Indiana, Kentucky and Ohio. This is the third consecutive year Sigma Chi has coordinated and the college has hosted the event. Expansion within the program comes in the form of a swim meet Feb. 25 and a track-and-field day April 8.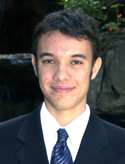 "Our fraternity and Wabash College — we have so many resources and facilities," said Geggie, a Latin, Greek and English major. "I feel we can do a whole lot more for the competitors."
To get three major competitions organized will take volunteers and donations. Specifically Geggie and Josh Day, his fraternity brother and the one who arranged last year's basketball tournament, are looking for philanthropy in the form of food, trophies, money and of course, free labor.
"I've already spoken with the PRIDE group at Crawfordsville High School," Geggie said. "They said they'd be more than willing to help us out. Still, I'd rather have an excess of volunteers than not enough."
Geggie said just seeing the joy and spirit exuding from the athletes is reward enough, and it's something everyone should be exposed to.
"I've done lots of work with children and people of special needs, and it's an amazing experience to see them win or do good at something," he said. "It's difficult to put into words. I'd like to have a whole lot more people experience that, to know that they're doing something to have this outlet. It's this physical manifestation right in front of them of their good work, their good deeds, to see the happiness on this kid's face."
Day echoed that sentiment.
"It's just a good experience to get into," said the sophomore psychiatry major. "It's rewarding not only for the athletes in general but for people to actually help others. I guess a lot of people overlook just how powerful that is. One thing we hope this can do is start a domino effect, where other schools, other places in Crawfordsville will want to get involved and take it upon themselves to host other things. That's only going to get accomplished through people coming and doing these things, thinking it's really cool and wanting to do more."
"Ultimately the goal is to make this an institution — not only at Wabash College, not only for the Sigma Chi fraternity, but for Crawfordsville in general," Geggie said. "It's a way the community can get together and support each other."
To volunteer your time and/or donate to these Special Olympics events, e-mail Geggie at

geggiec@wabash.edu or Day at dayj@wabash.edu.
Coggeshall is a reporter for the Crawfordsville Journal Review.
In photo: Chris Geggie.