Kevin Pazour '07 Elected Student Senate President
by Kayla Gentry • December 16, 2005

Share:
Founded in 1832, Wabash College is one of the nation's top liberal arts colleges. With a wide variety of programs, 850 men obtain an excellent education in their fields to prepare them for becoming successful citizens of the world.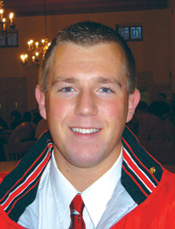 Kevin Pazour, a Wabash College junior, is one such man. While carrying a load of difficult and time consuming classes for his art history major, he also is involved with the Student Senate, Independent Men's Association, Sons of Wabash, and is the recent Student Body President-elect. With the dream of eventually becoming a museum director, Pazour is active with his fellow student peers and continually pursues excellence in his future dreams.
Pazour's favorite quote by Theodore Roosevelt states: "Far better is it to dare mighty things, to win glorious triumphs, even though checkered by failure... than to rank with those poor spirits who neither enjoy nor suffer much, because they live in a gray twilight that knows not victory nor defeat."
His life motto runs hand in hand with the quote. "Never settle," Pazour said. "Keep on trying even when you do run into obstacles along the way. Keep the mentality to never give up."
Pazour grew up in Valparaiso and graduated from Washington Township High School. While searching for a college to attend, Pazour enjoyed the one on one attention he felt at Wabash in comparison to other colleges and universities he visited. "I felt at home here." He said.
At Wabash, Pazour works in the Art Department running small errands and is active within his campus organizations. "Everybody that I encounter in everyday life has had some sort of influence on me," he said, describing that he has not one, but many mentors that have influenced his personal life.
While being the Student Body President, Pazour hopes to become active within the community of Montgomery County. He will discover the current ties that the student body has within the community when he is handed down the information next semester.
"The last student body president, Greg Mahoney, has really helped me and influenced me to run (for student body president)," Pazour said. "I just got elected last week and it is overwhelming. It really hasn't all sunk in yet."
Pazour begins his term as president next semester, and will continue his legacy until this time next year.
Pazour has received many pieces of advice that have helped him become the successful man he is now. "Give it your all. Essentially, if you try something and give it your all, you will succeed," he said.
After his finals this week, Pazour plans on going home and relaxing for a few days. "I enjoy Christmas time and the downtown area of Valparaiso," he said, "I am the vice president of a museum in Valparaiso and do volunteer work there by fund-raising for different programs and academic programs."
If he could tell the community members of Montgomery County one thing it would be: "Do not believe in the Wabash stereotype. Many people here think we are ritzy and arrogant, but that is wrong. A lot of us come from the same type of communities," he said.
"Never get down on yourself and let emotions get to you. There are always going to be failures, but you have to overcome them."

Gentry is a reporter for The Paper of Montgomery County. This story first appeared in the Dec. 14 edition.