Professors Get Ultimate Passing Grade
by Jim Amidon • December 12, 2005

Share:
Wabash College students will burn the midnight oil this week; final exams began Monday morning. While students cram through the night to be prepared, faculty hope they have imparted the lessons appropriately so that the young men they teach excel on their finals.
No faculty member I have ever met enjoys giving out bad grades.
Three faculty members received better than passing grades (and great news) from Wabash President Andy Ford last week. President Ford granted tenure to professors Mike Axtell, David Blix, and Preston Bost.
Tenure in the academy has become highly controversial; at places like Wabash, it's part of the fabric of the institution. Academic freedom and risk-taking by professors is what makes a college steeped in liberal arts traditions walk the cutting edge of teaching and learning.
Yes, tenure boils down to lifetime job security for professors Axtell, Blix, and Bost. If you had the chance to sit in on their classes or see the impact they have on their students outside of class, you'd agree with me that each has earned his position at Wabash.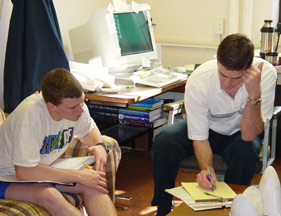 And all three are quite different in their approach to teaching and learning.
Axtell joined the Mathematics Department at a time when the College was graduating maybe five majors per year. Axtell and his colleagues, old and new, have completely re-energized the department; the number of majors each year has tripled and projections are excellent for those numbers to hold in the future.
Professor Axtell has specialties in areas I can't even pronounce. What I know is that his office door is ALWAYS open. I can't ever recall walking by his office when there wasn't a student in talking with him; there is usually a line of students waiting, too.
On top of that, Axtell was named a Carnegie Fellow by the Carnegie Foundation for the Advancement of Teaching. He and his colleagues won a national grant to establish the Wabash Summer Institute in Algebra, which attracts some of the top undergraduate mathematics students in the country. And Professor Axtell is every student's favorite intramural athlete.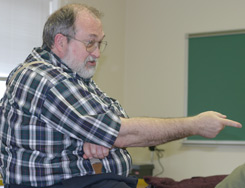 David Blix teaches in the Philosophy and Religion Department. I'll never forget in the hours right after 9/11 when Blix quickly agreed to help us put on a town hall meeting so that local people could better understand the intricacies (and misconceptions) regarding the Muslim religion.
But then again, David Blix almost never says no to anything. He attends every faculty dinner at fraternity houses and the independent men's dinners. He shows up for virtually every visiting speaker or seminar. He's at the organ in the Chapel when we mourn the loss of a loved one or colleague.
And even though he's by far the oldest of this year's tenured professors (Wabash Class of 1970), he never stops learning. He's traveled to Asia and studied the languages to improve his understanding of Asian religions. He's constantly studying and questioning his colleagues for tips to become a better teacher. Blix, too, is a Carnegie Fellow.
If you ask Wabash students who have had David Blix, they'll either say "terrific teacher," "he cares immensely," or "he wrote the best recommendation letter I've ever had."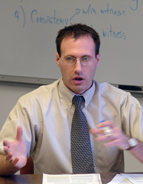 Preston Bost is the newest tenured member of the Psychology Department, which is transitioning in the last several years. Bost is another fine role model for his students, and his teaching style is unique.
When I think about the psychology classes I took 20 years ago and contrast them with what I've seen when I've dropped in on Professor Bost's classes, I can see why he is incredibly popular with his students. He brings the material to life and encourages his men to experiment. There's hardly a day that goes by when I don't see a student email asking for volunteers to participate in a study of some kind.
All three of Wabash's newly tenured professors differ greatly in style and scholarship. What makes them similar is the impact they have on their students. They make themselves available round the clock, in class and out, and serve as wonderful male role models for the men who take their classes.
It is indeed wonderful news that all three received the ultimate passing grade this fall.
This article first appeared in the Jim Amidon's weekly column in the Journal Review.