Stephen Webb's 'Divine Voice' Wins National Honors
by Howard W. Hewitt • December 7, 2005

Share:
Wabash Professor Stephen Webb was recently honored with a national award for his book, The Divine Voice: Christian Proclamation and the Theology of Sound."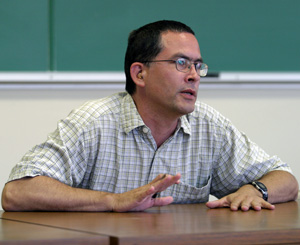 The Religious Communication Association named Webb's book its 2005 Book of the Year. The Association is an academic society founded in 1973 by people interested in public religious communications.
"I was not a member of this organization, so to be honored by them as an outsider, so to speak, was especially pleasing," Webb said.
The book, which has drawn widespread critical acclaim, was called one of the Top Ten Books of 2004 by Christianity Today.
"I have long written extensively in the area of rhetoric, so to be honored by a group of scholars in that field was exciting," Webb said. "Higher education today is so fragmented that teachers often do not read much outside their own narrow fields.
Rhetoric is and should be an interdisciplinary field and the intersection of religion and the history of public speaking is a natural one."
After reading The Divine Voice, Seton Hall University's Thomas Guarino said Webb has a creative and incisive theological mind. "Whether examining Jesus as the voice of the Father, the role of voice in innertrinitarian relations, or the relationship between voice and gender, Webb offers the kind of thought-provoking and highly creative reflections rarely found elsewhere."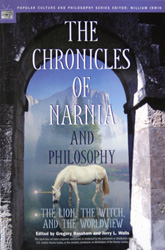 Webb traveled Nov. 17 to Boston and attended the Religious Communication Association's banquet. Five professors served on the panel that selected the book of the year.
Webb's latest effort is his essay "Aslan's voice: C.S. Lewis and the Magic of Sound" with is the opening for The Chronicle of Narnia and Philosophy: the Lion, the Witch, and Worldview.
That compilation of essays exploring the moral and philosophical terrain that runs through C.S. Lewis's Narnia series was published by Open Court in advance of the premiere of The Lion, the Witch, and the Wardrobe in theaters nationwide.
In photos:
Top left: Webb in Wabash classroom.
Lower right: Webb contributed an essay to The Chronicles of Narnia.