English Professor Tim Lake to Become MXI Director
by Nelson Barre '08 • December 1, 2005

Share:
English Professor Tim Lake will soon start preparations to replace the retiring Horace Turner as Wabash College's Malcolm X Institute executive director. Turner is retiring after 34 years. The change will take place July 2006.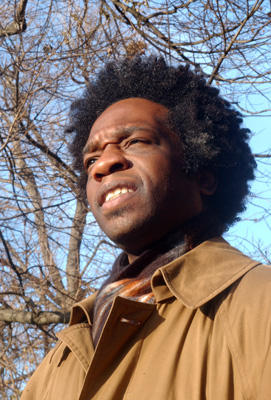 Turner announced his retirement earlier this year. Lake had known the retirement was on the horizon and had an interest in the position.
"I had some conversations with former Dean Mauri Ditzler," Lake said. "And he thought it provided lots of creative opportunities for me to impact the lives of students and nurture the education of these young men."
The MXI's future director has plans prepared once he assumes leadership. His plans include an expansion of African American courses as well as furthering the history and experiences of the Institute's members.
"So far we've been a great support to African American students and others," Lake said. "We allow them to gather along the lines of recreation and their cultural influences and celebrations. We'd like to add an academic component to the Institute that will also help to bring coherent, regularly listed courses into the curriculum in order to gain more rigorous and robust understanding of the African American experience."
Lake also plans on a research addition to the MXI to help enrich students' academic experience. One of the research projects over the next four years is being undertaken to understand and gather information on all the public markers celebrating or listing African Americans. So far this project has covered the southwestern corner of Indiana.
Lake wants the MXI to continue helping in the community and gain connections through such projects as the afternoon tutoring of elementary school students.
"I hope to be able to form a relationship with the community," Lake said. "I want more formal ties so community-based organizations are connected to students for cross-cultural programs. We also want to provide a resource for the community. We could even have relationships with youth correctional facilities. I just want to help make a difference in the MXI."
Lake wants to expand the experience of students at the College. The MXI can give opportunities for internships, work in corporate America or fellowships at other institutes. Lake wants to develop networks to make those available to students, such as tapping into the alumni network and national/regional affiliations.
Professor Lake teaches English usually with a concentration on African American or multicultural literature. He teaches African American Literature and will be teaching Pen and Protest: Literature and Civil Right next semester.
Barre '08 is a writer for Wabash College's student newspaper, The Bachelor. Photos by Steve Abbott '09, a Bachelor photographer.