Robinson Compares Rhodes Process to The Apprentice
by Howard W. Hewitt • November 21, 2005

Share:
Jeremy Robinson '04 has become Wabash College's first Rhodes Scholar in nearly 40 years. Robinson, who currently is teaching for Teach for America on Chicago's south side, is the first Rhodes' winner since David Kendall '66 and is Wabash's eighth Rhodes Scholar.
The Indianapolis North Central High School graduate will study English at Oxford. He told the Chicago Tribune he wanted to grow as a teacher and become more of an advocate for educational improvements.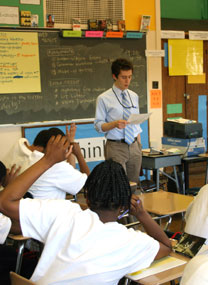 Robinson, who was featured in the January issue of Wabash Magazine, joined Teach for America and is in his second-year at low-performing Harper High School.
"Since receiving the news, I've felt an odd mixture of disbelief, head-over-heels elation, gratitude, and fear of the awesome responsibility this entails," Robinson said Tuesday. "I feel this in every fiber of my being and I look forward to repaying the debt I owe so many people."
Robinson's passion stirred his Rhodes' advisor, History Professor Stephen Morillo who also is a Rhodes Scholar.
"He worked up a draft of his personal statement and it was just one of the best I've read in my years as a Rhodes advisor," Morillo said Monday morning. "I have to admit I was pretty impressed the first time I met him."
Morillo didn't know Robinson well while he was a student at Wabash, but after reading the Rhodes letters of recommendation written by English professors Tom Campbell and Warren Rosenberg, along with religion professor William Placher, he felt like he knew him well.
Robinson has been on campus on two different occasions during the fall semester. He was here in early October recruiting for Teach for America and returned in late October for a practice interview with Morillo.
He said the final interview process in Chicago took place Nov. 18 and 19. Robinson had an odd feeling after his interview Saturday, while walking back to the law offices where the interviews were conducted. He was one of nine finalists. He learned at 3 p.m. that he would become a Rhodes Scholar.
"I felt a little bit like I was on Donald Trump's show The Apprentice," he said. "Surrounding me were eight eminently talented young people from some of the finest academic institutions in the country with the most decorated personal, academic, athletic, and altruistic histories you could imagine. We were all dressed in our finest clothes and knew the stakes were high.
"We understood that soon after returning to the boardroom, seven of us would be fired. For some reason the stars were aligned and I didn't lose my job. I got promoted."
Robinson called many of his friends at Wabash on Saturday after getting the news.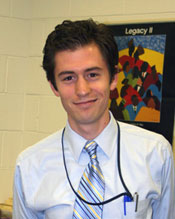 "We've actually come so close a number of times," Morillo said. "We've had a couple of near misses (in the 1990s) and it's frustrating. The last couple of years we've had what I thought were a couple of good candidates that didn't come close.

"So yes, it was very, very satisfying to get the news from Jeremy and I am very pleased."

Robinson majored in English and Spanish at Wabash. His brothers Ben '01 and Josh '97 are also Wabash graduates. Jeremy was a summa cum laude graduate, Lilly Scholar and earned distinction on his comps. He was actively involved on campus in soccer, track, the Board of Publications, Malcolm X Institute, and Student Senate during his four years at Wabash. He was also a member of Delta Tau Delta Fraternity.

The Rhodes scholarship is worth approximately $40,000 and covers tuition and living expenses. There are about 85 Rhodes Scholars selected each year from around the world.

Robinson will leave with 31 other Rhodes Scholars in October, 2006, for England. "I will study most likely for a second B.A. in English," he said. "Although now that this is a reality, I may decide to pursue an M.A. in a more specific field of English."

According to Beth Swift, Wabash College's archivist, Wabash College Rhodes winners are: David E. Kendall '66, Robert F. Ashman '60, Frank R. Barnett '43, Byron K. Trippet '30, Norman Littell '21, Claude A. Pifer '07, and J. Insley Osborne '06.

Hewitt is Wabash College's Director of New Media/Web Editor.

In photos: Robinson at work in his Chicago classroom in April, 2005.




For more information see: