Showtime for the 112th Monon Bell Classic
by Jim Amidon • November 10, 2005

Share: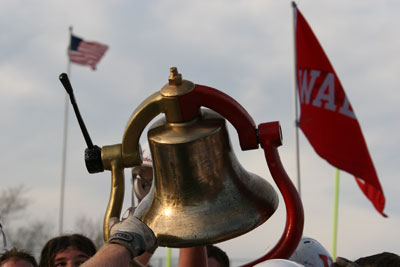 It's show time!
The 112th Monon Bell Classic is upon us. No more hype, no more predictions. It's time to strap it up and hit the field. Coach Chris Creighton's Wabash football team (9-0; 7-0) puts its undefeated season and number-one regional ranking on the line against Coach Tim Rogers' DePauw Tigers (7-1). The winner breaks a 51-51 tie in the rivalry and takes home the 300-pound Monon Bell.
The Little Giants' theme all season has been "Unfinished Business." Beating Wittenberg and Wooster and winning the North Coast Athletic Conference's bid to the NCAA Division III Playoffs were a few pieces of unfinished business that have now been, well, finished. Now there's another piece: bringing the Monon Bell back to Crawfordsville.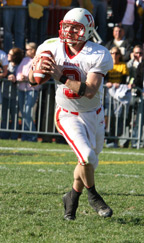 "They have it and we want it," has been Coach Creighton's motto all week. Listening to Wabash's seniors speak — in TV and newspaper interviews and in the Chapel Pep Rally Thursday — sounded like a broken record. "They have it and we want it." You have to hand it to these Little Giants — they are focused. And so they have been since a week-one whitewashing of Kalamazoo through week nine's shutout of Denison. Clear, determined focus has guided the Wabash football team all season.
Looking at the matchups for the 112th meeting of the two schools reveals more than Russ (Harbaugh) vs. Ross (Wiethoff). While the two dynamic quarterbacks are the focal points of their respective offenses, the defenses of Wabash and DePauw set the tone for the teams.
And so the ability of DePauw's linemen and linebackers to pressure Harbaugh and its secondary to stay with Wabash's stable of thoroughbred receivers is critical if the Tigers want to stay close. Similarly, Harbaugh (pictured on the right) and the fast-paced Little Giant offense can only do damage if they are on the field. DePauw's game plan will be to hand off early and often to sophomore Jeremiah Marks, who combines size and speed to become DePauw's best all-around back in years. Marks and the speedy Wiethoff will hope to dominate time of possession on long, clock-churning drives.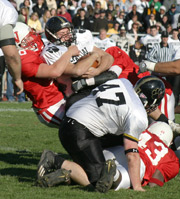 Matching it up:
DePauw's offensive line vs. Wabash's defensive front — Wabash gives up tons of size to the Tigers, and a good bit of experience, too. DePauw is led by third-year lettermen Jaime Waymouth (6-4, 285) and Chad Homan (6-0, 255) on the offensive line, but second-year starter J.P. Kinerk (6-6, 285) is the biggest of the bunch. Four of DePauw's starting linemen are seniors, as is 6-4, 240-pound tight end Chase Jonason. Jonason doesn't catch a lot of balls, and is used primarily to take out linebackers.
In fact, DePauw's conventional offense features a two-back set with fullback Jeff Roth (5-10, 225) punching holes in the line for Marks (being tackled by Adrian Pynenberg at left). That's a lot of beef coming at Wabash's front seven. The Little Giants saw virtually no two-back offenses in the NCAC, and when they did they were able to adjust pretty quickly. Wittenberg's Tristan Murray gained 101 yards on Wabash, but many of his yards came outside the tackles and he gained them on 27 hard-working carries.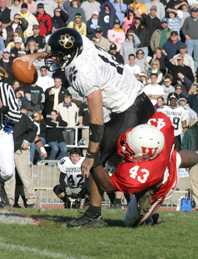 Wabash is small and fast on defense. And experienced, too. The Little Giants are big only in the middle, where Jared Lange (5-11, 252) and T.J. Schaaffer (6-1, 266) roam. On the line, the biggest key could be Tamarco White (photo at right) and Peter Kempf's ability to contain Wiethoff, who loves to roll out and take off down field. Wiethoff threw for only 10 yards last year, but rushed for 64 yards, including a 40-yard touchdown run.
Linebackers Aaron Selby, Tim Parker, Josh Foster, and Adrian Pynenberg bring enormous experience to the field. Foster played big in the Bell Game as a rookie and Pynenberg was the game's leading tackler in last year's game. Selby and Parker, both as healthy as they have ever been, missed last year's Bell Game. They are now playing the best football of their careers.
But what if they need to pass the ball? — Should DePauw need to play catch-up and throw the ball downfield, the Tigers will look for leading receiver Brian Culp to get open. He keeps defenses honest, for sure, and can break big plays. He enters Saturday's game with 30 catches for 364 yards. Other than Jonason's 16 catches, no other Tiger receiver as more than five catches on the year. Certainly throwing the ball is not the way DePauw hopes to win.
Wabash's offense vs. the Tiger pass defense — Passing the football is how Wabash plans to beat DePauw. Harbaugh is the nation's third most efficient passer and has completed over 70 percent of his passes for 25 touchdowns with just three interceptions. He will start his third straight Monon Bell Game on Saturday, and comes in having thrown for over 300 yards in four of his last five games.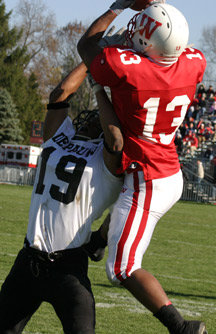 Four of Harbaugh's receivers — Eric Summers (45 catches, 691 yards, 6 TDs, pictured on the left), Geoff Walker (39-593-5), and Mike Russell (35-533-6), and Ray Green (24-431-4) — average over 15 yards per catch. Kyle Piazza has 35 catches out of his J-back position, while tight ends Graham Nelson and Tim Schirack have combined for five touchdowns.
DePauw's defense loves it when teams pass. The Tigers boast the third best pass defense in the nation, allowing opponents 91 completions in eight games. Opposing offenses have netted just 140 passing yards per game with seven TDs against 15 interceptions. Junior safety Greg Sylvester is DePauw's best pass defender with four interceptions and a team-high 56 tackles. Corner Andrew Huff has three interceptions, and DePauw boasts eight players with one interception each.
If DePauw elects to drop linebackers into pass coverage to stymie Harbaugh, Chris Ogden (454 yards, 3 TDs), Brandon Roop (417 yards, 8 TDs), and Don Juan Brown (381 yards, 3 TDs) are more than happy to run the ball.
Perhaps DePauw's pass defense is so good because its defensive line and linebackers get so much pressure on opposing quarterbacks. Dustin Hertel, a senior defensive end, has been hurt in each of the last two Bell Games, but comes in healthy this year with 46 tackles, 11 tackles for loss, and a team-high five sacks. Linebackers Aaron Key and Rob Farrow have 51 and 45 tackles respectively. Outside backer Eric Lewis has 7.5 tackles for loss.
The special teams match-ups — The two teams' kicking games match up pretty evenly. Wabash's Chad Finley hit 7-of-7 extra points and a 31-yard field goal vs. Denison. For the year he's hit 34-of-41 extra points and 5-of-7 field goals with a long of 43 yards. DePauw's Tyler Mallory is 30-of-34 extra points and 5-of-8 field goals, but his longest field goal this year is 28 yards.
Finley has enjoyed a fine year as the team's punter, averaging 39.2 yards per punt with a long kick of 74 yards. DePauw's Jon Williams averages 36 yards per punt.
And now for turnovers — Good teams take care of the football, and it's no wonder Wabash and DePauw come in with 9-0 and 7-1 records, respectively. Wabash has given up the ball just eight times (5 fumbles, 3 interceptions), while forcing 18 turnovers (4 fumbles, 14 interceptions). Likewise, DePauw has coughed it up just 17 times (10 fumbles, 7 interceptions) while forcing 23 turnovers (8 fumbles, 15 interceptions).
Home field advantage? — Fugetaboutit. DePauw is 26-25-3 in games played in Greencastle and has lost its last two home Bell Games. Wabash is 24-23-5 in Crawfordsville.

The Spoils — Just in case fans needed something other than the Monon Bell to get excited about, this game also has playoff implications. Wabash won the North Coast Athletic Conference's automatic bid to the playoffs and is ranked first in the NCAA's North Region. Beating DePauw would likely cement that seeding and give Wabash the potential of two home games in the playoffs. DePauw can only get into the playoffs at this point with a win over Wabash. Doing so would likely allow the Tigers to get in, though where they might play is unclear since the Tigers are in the South Region.
Recent playoff spoilers — DePauw snapped Wabash's 9-0 record in 1998, tossing the Little Giants from the playoffs. Wabash did the same thing to DePauw in 1985. The teams traded the favor several times in the late 1970s and early 1980s. Wabash is in the playoffs for the third time ever and second time in four years. DePauw has never made the Division III playoffs.