Family Day 2005
by Tom Runge • November 7, 2005

Share: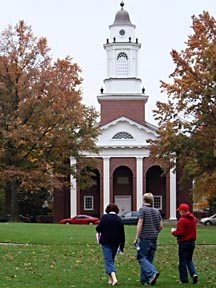 Wabash welcomed families from as far away as California, Texas, and Mississippi to Family Day 2005. The rain held off, the storms stayed away, and the Little Giant football team delivered a great victory, 52-0, over a much-improved Denison football team. All in all, a nice day to be on campus.
Sons of Wabash member Ben Gonzalez '06 provided a campus tour for several guests – many family members who were making their first trip to campus. They could not believe the beautiful Wabash campus nestled among "the cornfields of Indiana".
David Clapp and Professor Rick Warner conducted a session for parents on the opportunities available for Wabash men to study off campus, including semester abroad programs and the numerous options for immersion trips.
The new Schroeder Center for Career Development staff, headed by Scott Crawford, provided an informative session on the many services available through their office. Scott also stressed the importance of internships while in College. Lu Hamilton '76, alumni career officer, explained the benefits of Wabash's Lilly Endowment grant designed to introduce our students to the opportunities available in the State of Indiana.
Many thanks to Michele Tatar, Heather Bazzani, and Mike Warren of the Alumni and Parent Relations office for making Family Day a fun day for everyone.
For photos of Family Day 2005, click here.