Wabash Puts Undefeated Record, Ranking on the Line
by Jim Amidon • October 27, 2005

Share: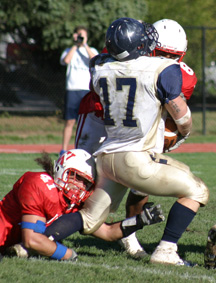 The Wabash football team's trek to Meadville, Pennsylvania feels a bit like a mouse trying to steal a piece of cheese from atop a trap while a crafty cat hides nearby. Perhaps a more fitting analogy would be the confident bird stepping to the river's edge for a drink of water while the alligator lies in wait.
Sure, Wabash enters the game with a perfect 7-0 record coming off a win over NCAC rival Wittenberg and a number two spot in the NCAA's North Region rankings. Sure, Wabash has the NCAC's top offense and top defense. Sure, Allegheny won its first game of the year just last week.
Still, the feeling at Wabash is that the Gators would like nothing more than to make their season by knocking off the Little Giants at Robertson Field, a.k.a. "The Swamp." Seems like the feeling is about the same in Meadville.
"We're excited heading into this week, because it can be a game of redemption for our players, getting a chance to knock off a very good team," said Gheny coach Mark Matlak in the school's pre-game feature on the web site.
Amazingly, Allegheny has lost five games this year on the final possession of the contest. "We really could be 6-1 if not for a few unlucky bounces," said Matlak. After the Hiram win, Matlak said Wabash was essentially "the same team we beat last year."
The gator awaits its prey in the swamp with momentum and a healthy running back in Mario Tarquinio, the current NCAC Offensive Player of the Week. Tarquinio. The talented tailback has returned from injury to rush for more than 100 yards in four straight games, including 101 in last week's win over Hiram. Wabash fans remember him well; Tarquinio gained 93 yards against Wabash last year and scored the winning touchdown in Allegheny's 16-10 overtime victory.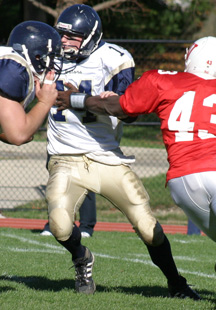 Gheny has rotated quarterbacks this season, featuring 2004 starter Jimmy Savage along side James Jones. Savage has thrown for 907 yards and two touchdowns, while Jones has thrown for 331 yards and four scores. Savage, too, has good wheels and has rushed for 247 yards and three touchdowns on the year. Jones has carried only 39 times, but boasts 130 rushing yards and a touchdown to his credit.
Wabash will be hard-pressed to slow down receiver Kyle Geiser, who has hauled in 40 passes for 385 yards and two touchdowns this year. What Wabash must do is to put Savage or James in predictable passing downs and do so by containing Tarquinio.
By virtue of its 7-0 record and 26-20 win over Wittenberg, Wabash has vaulted to the number two position in this week's NCAA Division III North Region poll. A win at Gheny would lock up at least a share of the Little Giants' second NCAC championship with a November 5 date at home against Denison rounding out the league season.
Russ Harbaugh, who last year was limited to just 67 yards passing vs. Allegheny, enters Saturday's contest on a roll. He's hitting 68 percent of his passes, throws for about 300 yards per game, and has thrown 19 touchdowns against just two interceptions. For Gheny to knock off Wabash, it will again have to slow the Little Giants' offense as it did last year when the offense never dented the endzone and accumulated just 193 total yards.
It is, however, a very different Wabash team this year. The offense is clicking on all cylinders and Allegheny's defense will be put to test. Gheny is allowing 24 points and 354 yards per game. Teams average 3.8 yards per carry against the Gator defense, and opposing passers have averaged 214 yards per game.
Harbaugh has spread the ball around, hitting a dozen different receivers this year; five Little Giants have more than 20 catches thus far, led by Eric Summers (4 TDs, 33 catches), Mike Russell (5 TDs), and Graham Nelson (4 TDs).
Wabash's running game has been very good since Coach Chris Creighton installed the three-back rotation of Brandon Roop, Chris Ogden, and Don Juan Brown. All three have very different running styles, and together the trio averages 146 yards per game.
Allegheny will try to take Harbaugh out of the mix and make Wabash one dimensional, as it did last year. Leading the way for the Gators is safety Brad Stotsky with 45 tackles and three interceptions on the year; he had 11 tackles against Wabash last year and was quite impressive near the line of scrimmage.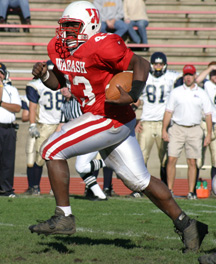 If Wabash's offense has been efficient, its defense has been smothering. Wittenberg was the first team to solidly get in double figures against Wabash, but the Little Giant defenders limited the Tigers to a single touchdown after Witt jumped to an early 13-7 lead.
Aaron Selby, senior linebacker, didn't play in last year's Allegheny game. This year he is healthy and is coming off NCAC Defensive Player of the Week honors vs. Wittenberg. Adrian Pynenberg lines up along side him, and boasts 54 tackles, six sacks, and three interceptions. Josh Foster and Tim Parker are also playing at the top of their game, giving Wabash its healthiest linebacking corps this late in the season in years.
If Wabash has had a chink in its armor this year, it might be special teams. Wabash missed a couple of extra points last week, though Chad Finley did boot a 74-yard punt, second longest in school history. On the flip side, Allegheny boasts one of the nation's best punters in Jason Black (40.8 average), one of the best punt returners in Nick Jones (17.9 ave), and one of the best kick returners in Geiser (26.4 ave).
The Wabash faithful is behind its team, and hoping the Little Giants can become only the third team in school history to post a perfect 10-0 regular season record. Now 7-0, the first of three big steps begins Saturday in the Swamp, where the Gators hope the Little Giants take the bait.
Photographs from 2004 Game:
Top left: Allegheny's Mario Tarquinio, a 205-pound bruiser, picked up 93 yards vs. Wabash last year and is this week's NCAC Offensive Player of the Week.
Middle right: Gheny quarterback Jimmy Savage threw for 103 yards and rushed for 72 yards against Wabash last year.
Bottom right: Tamarco White scored Wabash's only touchdown vs. Allegheny on a 42-yard fumble return.