A Little Giant 500

Share:
The faces of Buddy Lazier's pit crew said it all; the team's worst nightmare had come true: Lazier had crashed on Carburetion Day, 48 hours before the start of the Indianapolis 500.
The partnership between Jonathan Byrd '98, his brother, David '99, and Panther Racing was the great untold story of the 89th Indy 500. Jon and David came together to honor their 53-year-old father, Jonathan, who suffered a massive stroke in 2004. His sons bought an Indianapolis radio station, from which they built Byrd Brothers Racing. Their idea: to honor their father by putting a Byrd-sponsored car in the Indy 500 for the 18th time in the last 20 years while raising awareness of stroke symptoms and heart disease.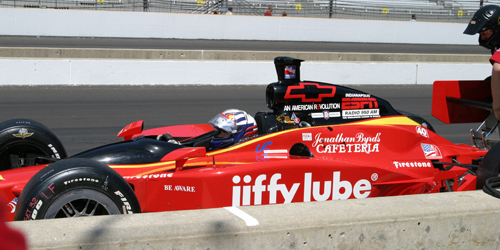 The pieces fell into place like destiny, and the brothers sported "Be Aware" wristbands, put "Be Aware" stickers on the race car, and purchased commercial advertising time on the 500 Radio Network for the American Stroke Association.
Then came Carburetion Day.
"When Dad went in for surgery, the one thing we feared was a stroke," Jon told me moments after Lazier's wreck. "When we got our car in the 500 field, our only fear was a Carb Day crash."
But as we parted that day, David gave me the thumbs-up and shouted, "Wabash Always Fights!"
The team worked day and night to rebuild the car, and Lazier drove it masterfully, finishing fifth for $280,000 in prize money. But money wasn't the prize for David and Jon—two Wabash men grateful for their father's love, hoping to spare other families the hardships that haunt victims of stroke.
Sometimes you don't have to finish first to score a victory.