Miers withdraws; LaDriere '78 Praises Former Law Partner
by Howard W. Hewitt • October 27, 2005

Share:
Supreme Court nominee Harriet Miers withdrew her nomination to the U.S. Supreme Court Thursday. Miers was a law partner with Ray LaDriere '78 for several years in Texas.
In a letter dated Thursday, as reported by MSNBC.com. Miers said she was concerned that the confirmation process "would create a burden for the White House and our staff that is not in the best interest of the country."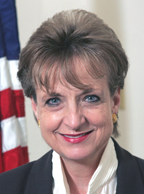 She noted that members of the Senate had indicated their intention to seek documents about her service in the White House in order to judge whether to support her nomination to the Supreme Court. "I have been informed repeatedly that in lieu of records, I would be expected to testify about my service in the White House to demonstrate my experience and judicial philosophy," she wrote.
"While I believe that my lengthy career provides sufficient evidence for consideration of my nomination, I am convinced the efforts to obtain Executive Branch materials and information will continue."
LaDriere wrote glowingly of his working relationship with Miers during their time together at Locke Liddle law firm. His remarks were made before she withdrew.
"Harriet is a business trial lawyer with incredible experience," LaDriere said. "Her clients included some of the most prominent companies in America, and a wide spectrum of individuals.

"She was President of the Dallas Bar Association and then the Texas Bar Association. If she had not gone to the White House, I believe she would have been President of the American Bar Association."
LaDriere said integrity and loyalty were the key words he would use to describe the woman nominated to succeed Sandra Day O'Conner.
"She will always do what is right, not what is expedient or easy," he wrote. "Harriet is respected by so many, including the staff at our law firm; it is not easy for top management to garner such respect.
"She is known as a trailblazer for women in the law, but more broadly, she has really dedicated her career to the service of others and service to the entire community."
While accepting the withdrawal Thursday morning, President George Bush did not indicate when he would name a replacement.