Laughter and Remembrance
• October 25, 2005

Share:
When assigned the difficult task at his class reunion of reading the names of classmates who had died, Andy Anderson '65 made an inspired decision.
"As I read these names, if any of you know something about the man or have a story to tell about him, please do so," Anderson requested.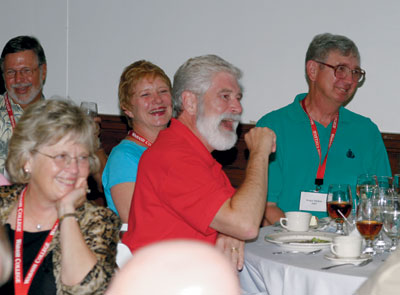 And stories there were:
Of Steve Gross, one of the Commencement speakers for the class.
Of Dave Stapleton, who started the College's first radio station.
Former longtime Class Agent Morrie Adams spoke of Randy Henze:
"One of the Henze twins, he was a devout Christian who hated war, was drafted into the Army, became a corpsman, and lost his life in Vietnam," Adams said. "I've been to the [Vietnam Veteran's Memorial] Wall in Washington D.C. and found his name. It was something I had to do."
When Jim Lund's name was read, Ross Zumwalt told of his classmate's contribution to the Class of 65's victory in the greased pole fight: "Jim was the guy who got the cap off the top of that pole."
And his classmates cheered Lund's effort once again.
Peter Pactor recalled the friendship of Jim Rhode and Wally Rowen. Dennis Robbins (pictured above) had his own tale about Rowen."
He was quite the artist; remember those really sexy drawings at Pan Hel?
"Oh, yeah," came the raucous group response. "We remember Wally!"
"Well, we had glass doors on our showers." Robbins smiled. "And Wally would come through with magic markers and put sexy women on all our glass shower doors!"
Page Stephens recalled email conversations about old radio shows with Rhiman Rotz, who Anderson called "a great intellectual, a wonderful character."
"There are just too many names on this list," a class member noted as Larry Blount stepped forward to pay tribute to his friend, Jim Graham, who died of cancer in December.
"Jim knew he was terminal, and when I was diagnosed with cancer last July, he sent me the refrigerator magnet that his fraternity brothers had given him and which said, 'Wabash Always Fights!'
"I'm now cancer free and doing well," Blount said, "so tonight I passed along that magnet to our class agents to give to someone else in his own struggle.
"Jim was a true Little Giant. I wanted to pass on to the rest of you his attitude about sharing the strength Wabash gave us."