Champion Remembered with Theater Prize
by Jim Amidon • October 25, 2005

Share: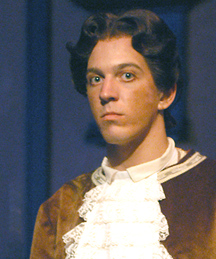 On the anniversary of Ryan Champion's tragic death, the Wabash Theater Department has announced the establishment of the Ryan Champion Theater Performance Award.
Champion, a member of the Class of 2007, was killed in an automobile accident in the fall of 2004. Friends and family established an endowment for the award, which will be presented annually by the Theater Department to a student demonstrating excellence in the areas of acting and directing. Ryan's participation in theater production work for the musical 1776 (photo at right), produced at Wabash shortly before his death, set a standard of quality and commitment that recipients of the award will be expected to achieve.
"It was a great privilege and pleasure for me to get to know Ryan and work with him on the production of 1776," said theater professor Jim Fisher. "He was a Wabash man in all of the best senses: bright, talented, and fun-loving, with a truly collaborative spirit and a compassionate nature. Through this award his name will be forever associated with the Theater Department, a fact that gives comfort to all of us who miss him."
"I think this is most fitting considering how Ryan loved theater," his mother, Marsha Champion Tyler told the North Vernon Plain Dealer. "We're very grateful for the establishment of the endowment."
Champion was graduated from Jennings County High School in North Vernon, Indiana in 2003, where he starred in The Sound of Music and other musicals put on by JCHS. At Wabash, he was a member of Beta Theta Pi and was planning to attend medical school. He was a student assistant in the Wabash Admissions Office.
The initial endowment was established by Gregg Theobald, Wabash '92, and Champions friends, family, and classmates. It is hoped that other contributions will be made to the fund. If you are interested in contributing to the Ryan Champion Fund in addition to your regular gifts to Wabash, please contact Carolyn Harshbarger in the Annual Giving Office for further information.