Monon Bell Tickets Going Fast
by Jim Amidon • October 24, 2005

Share: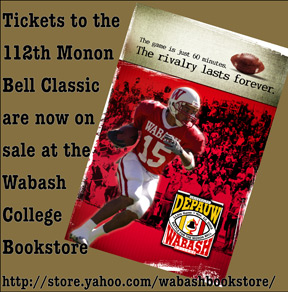 Wabash's tickets for the 2005 Monon Bell Classic are going fast.
Wabash Bookstore manager Mike Bachner said brisk sales over the weekend have left the College with approximately 320 tickets as of noon Monday.
Tickets are available from the Wabash Bookstore during normal business hours for $10 per ticket. Tickets are also available on the college's online bookstore site (a $1 postage and handling fee is charged for Internet orders).
The 112th meeting between Wabash (7-0) and DePauw (5-1) will be a sellout. The game will be played on Saturday, November 12 at 1:00 p.m. at Greencastle's Blackstock Stadium. The game will be televised on DirecTV Channel 321.