Second Half Defense Lifts Wabash to Top of NCAC
by Howard W. Hewitt • October 22, 2005

Share: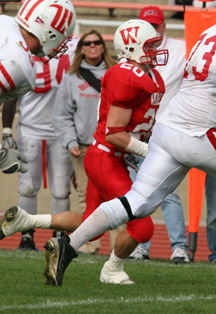 The Wabash defense recovered from a shaky first half and put a stranglehold on Wittenberg Saturday and a stranglehold on first place in the NCAC.
The Little Giants' 26-20 win combined with Kenyon's loss to Ohio Wesleyan gives Wabash sole possession of first place.
Though leading 14-13 at halftime, Wittenberg had moved the ball up and down the field controlling the ball for over 16 minutes to Wabash's 12 minutes of possession.
"We got off to a slow start and they put some points up on us," said senior defensive back Josh Foster. Foster's third quarter interception was the game's turning point. "Our defense didn't come out right off the bat like we usually do but at halftime we got some things together. We schemed up a little bit and decided what they were doing and came out in second half ready."
Wabash turned the tables in the second half keeping the ball for more than 18 minutes to Witt's 12. Eric Summer's 13-yard catch and Brandon Roop's two-yard run were enough to offset Jered Glover's 65-yard screen pass score in the second half.
"At halftime we got everything taken care of and came out with some energy," said senior linebacker Aaron Selby. "We were excited to stop them."
Selby, who appeared near full strength Saturday and recovered from a broken bone in his foot, registered 10 tackles with 7 of those credited as solo hits.
"We had to come back; we're down 10-0 - how you going to respond to that? We're not always going to be up 24-0 you have to do something about it," he said.
Leading tackler Adrian Pynenberg, a sophomore linebacker, registered 12 stops.
"It seemed like they were scoring on us at will, but none of us put our heads down," Pynenberg said. "It was always one play here and there and we got them stopped. We just thought if we could get them shut down early in the possession we could get them off the field."
The game lived up to its billing and the Wabash defenders admitted they got the test they knew Wittenberg would provide.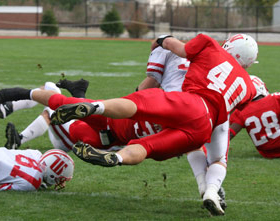 "We knew last week, this week and next week would be the stretch that would define who we were as a team," Pynenberg said. "After last week, coach said we hadn't really been tested like we would be today - we knew that and we got prepared mentally and I think we're happy with way we performed."
They passed the test and most of the players admitted it wasn't just another game.
"Up until this year we had a three-game winning streak then last year we lost to them so with them and Wooster we just wanted to get it back," Foster said. "We wanted to be on top and we knew this was our next step in the road to the playoffs. So it was a little more than just another game for us."
The next test comes in the season's longest road trip. The Little Giants will head out Friday morning for a Saturday afternoon meeting with Allegheny College in Meadville, Pa.
Photos by Jim Amidon:
Top: Josh Foster's interception turned the momentum in Wabash's favor.
Bottom: Adrian Pynenberg led all tacklers with 12 hits vs. Wittenberg, including this stop of Andy Vanover.