Little Giants' Dominant Offense Too Much for Wooster
by Howard W. Hewitt and Brent Harris • October 15, 2005

Share:
It was all about getting it back for the Wabash College Little Giants Saturday – getting the win over Wooster College, getting the swagger back, and establishing themselves in dominant fashion, 44-10.
The Little Giants rolled up an incredible school-record 654 yards of total offense, behind Russ Harbaugh's (Evansville, IN/Bosse) 452-yard, four touchdown toss day. The passing yardage was just seven yards shy of Jake Knott's '03 record. (Click here for game photo album.) (See additional photos here.)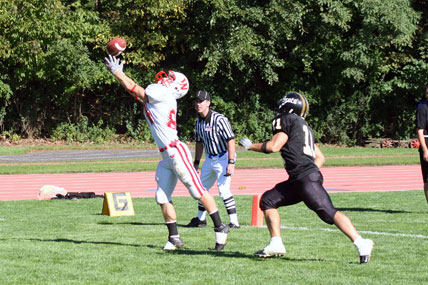 "Russ is playing exactly how you would want your senior quarterback to play and then some," said an ebullient Little Giant coach Chris Creighton. "He's put so much into this program. He's just really emerged as a confident leader, great arm, he runs our offense and he's throwing to extremely talented people. But he's really really playing well."
Harbaugh was proud of the individual accomplishment and effort of his receivers after catching the ball, but he also was anxious to talk about "getting it back."
"Wooster beat us two years in a row and took a lot of what we felt our freshman year away - so for us it means coming out and making a statement," Harbaugh said. "We're not only talented and experienced but we want to reach the level that 2002 team (12-1) and beyond. It was all about breaking their swagger and getting ours back."
The Wabash defense controlled the line of scrimmage and the turnover battle. The Little Giants held Wooster to 67 rushing yards on 23 carries. Wabash picked up 168 yards on 34 attempts.
The Scots took the early lead, capitalizing on a missed fourth down conversion attempt by the Little Giants. Wooster marched 54 yards in eight plays before settling for a 31-yard field goal by Andy Milligan.
Wabash responded by moving 80 yards on the next series. The Little Giants moved near midfield with three quick plays underneath the defense before going up top. Harbaugh found receiver Mike Russell (Terre Haute, IN/North Vigo) at the Wooster 30, where the 6-2 receiver out-jumped the Wooster defender to haul in the pass and run to the end zone. The 62-yard TD play gave Wabash a 7-3 lead.
After a Chad Finley (Alvin, IL/Bismarck-Henning) 27-yard field goal in the first five minutes of the second quarter, it was time for Harbaugh and the offense to go to work again. This time it was Brandon Roop (Newburgh, IN/Castle) capping an eight-play, 53-yard drive with a 26-yard screen pass for a touchdown. Roop grabbed the pass at the 15 and ran the rest of the way behind a huge block outside by tackle Brian Hilts (Ft. Wayne, IN/Bishop Dwenger).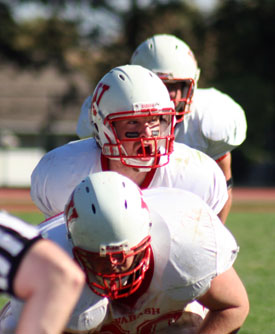 Harbaugh's first half numbers would have been good for a complete game, let alone the first 30 minutes of a contest. He hit on 17-of-26 passes for 328 yards and two scores. But he was hardly done for the day.

Leading 17-3 at halftime, the Little Giant went to the back of the playbook for the start of the third quarter. Finley stepped in to take the kickoff, but instead of booting the ball downfield, squibbed an onside kick and fell on it to set up Wabash again. Seven plays later, Harbaugh hit Geoff Walker (Schererville, IN/Lake Central) in the end zone with a 10-yard pass to the corner for a 24-3 lead.

Harbaugh added another touchdown pass on a 5-yard strike to tight end Graham Nelson (South Bend, IN/Clay) with 4:51 left in the third quarter.

The passing statistics were eye-popping. Harbaugh got his 452 yards on 28 of 42 attempts. Dustin Huff (Martinsville, IN/Martinsville) hit his only pass of the fourth quarter, but made it count. Huff hit Eric Summers (Indianapolis, IN/Cathedral) in stride for a 47-yard touchdown.

"The quarterback just did a great job of finding me," Summers said. "I just ran to the ball and made the catch."

Wabash finished with 654 yards of total offense to Wooster's 354, much of that coming late.

"Our theme for the week was 'Get It Back,'" Creighton said. "We talked about how it was more than just getting a win. When we were here before we just didn't feel we played with the intensity we're used to and they did. Last year they won more than just the game, it impacted us deeply - how we lost - we wholeheartedly believed we were going to win and we didn't. This week we wanted to get it back and this week against this team we did."

The tough stretch doesn't come to an end for Wabash. The Little Giants host Wittenberg Saturday at Crawfordsville at 1 p.m.

Hewitt is Wabash College's Director of New Media/Web Editor. Harris is Wabash College's Sports Information Director.

In photos:

Top right: Geoff Walker hauls in a third-quarter, 5-yard touchdown pass.

Lower left: Harbaugh had 452 yards passing, just 7 shy of a Wabash school record.

On sports page: Mike Russell out jumps the Scot defender and races to the end zone for Wabash's opening score.

QUICK HITTERS

Harbaugh's 452 passing yards are the most in a Wabash victory. Jake Knott threw for 459 yards in a 54-45 loss at home vs. Allegheny in 2000.

The 654 yards by Wabash breaks the old mark of 623 set against Franklin College in 1990. It is also the most passing yards allowed by any Wooster team.

Chris Ogden (Schererville, IN/Lake Central) topped the 100-yard rushing mark for the first time this season with 107 yards on 11 carries. He is the second Wabash running back to top 100 yards in a game this season. The Little Giants had 155 yards rushing on 34 carries in the game.

The Wabash defense has not given up a touchdown in the first three quarters of the game for five straight games. The only touchdown scored against the Little Giants in the first half of a football game came in the season-opener against Kalamazoo. No team has scored two touchdowns against Wabash this season.

Richard Roomes (South Bend, IN/Clay) led the defense with seven tackles. Adrian Pynenberg (Montgomery, IL/Oswego Community) had a tackle for a loss of a yard, moving him to eighth on the Wabash single season list with 14 for 54 yards. He also had an interception to give him three for the season, tying him for the team lead.




Results: Wabash 44, Wooster 10 Game Stats