Monon Bell Tickets Now On Sale
by Jim Amidon • October 13, 2005

Share: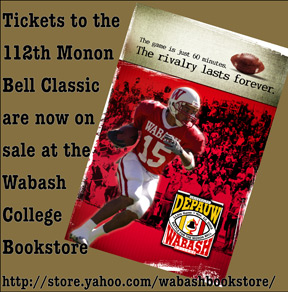 Tickets to the 112th Monon Bell Classic are now available on a first come, first served basis. The Wabash College Bookstore is handling all sales of tickets this year.
All tickets are priced at $10 for the game, which kicks off at 1 p.m. from Greencastle's Blackstock Stadium. Tickets for the annual battle between Wabash and DePauw we be sold in the Bookstore during normal hours, 9:00 a.m. to 4:00 p.m. Monday through Friday and on home football Saturdays.
Tickets are also available online using the Bookstore's Yahoo Store account. Click here to access the Wabash College Bookstore online. There will be a $1 postage and handling charge for all online VISA and Mastercard orders. Orders will be mailed via First Class U.S. Postal Service to arrive before the game on November 12.
To expedite processing of your electronic ticket order, please use the online Bookstore rather than calling or emailing Bookstore staff.
When Wabash's allotment of 3,300 tickets is gone, there will be no further ticket sales.