Wabash Travels to NE Ohio for Clash of the Titans
by Jim Amidon • October 13, 2005

Share: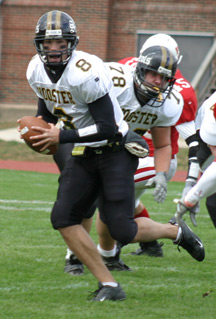 When the 24th ranked Wabash football (5-0; 3-0) team takes the field at the College of Wooster, it will be 364 days since the Little Giants came out on the short end of a 33-30 score at the hands of the Fighting Scots at Byron P. Hollett Little Giant Stadium.
And don't think Wabash hasn't been thinking about that sinking feeling of watching a game-tying field goal attempt fall no-good nearly a year ago. The loss to the Scots ended a 17-game home winning streak for Wabash; it snapped the Little Giants perfect 5-0 start; it dropped Wabash out of the national rankings; it ended a hope for a North Coast Athletic Conference championship; and it began a season-ending streak of four losses over the final five games. Click here to see photos from last year's game.
"Last year's loss to Wooster was devastating; it changed our whole season," said Wabash Coach Chris Creighton, who is 38-10 in his five years at Wabash, but just 2-2 against the Scots. "The reality of it was we were not able to overcome that loss mentally; it took us backward. We lost our confidence and our swagger, and we're still trying to get that back."
Many pollsters and critics are keeping in mind the Wabash-Wooster result last year. Wabash is barely denting the AFCA poll at 24th; D-III Football.com has not yet ranked Wabash.
Saturday's game at John P. Papp Stadium, though, could turn some heads. A win by Wabash will legitimize the team's perfect record and daunting statistics. The Little Giants enter the game with the nation's second best scoring defense and third best rushing defense, while the Wabash offense ranks at or near the top of the NCAC in every statistical category.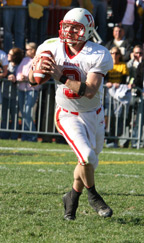 Senior quarterback Russ Harbaugh faces the Scots as a starter for the third straight year, as does Wooster junior Justin Schafer. The winning quarterback could easily make the case for NCAC Offensive Player of the Year at season's end.
Harbaugh is the nation's eighth most efficient passer; he's converted on 69 percent of his passes for 1,437 yards and 13 touchdowns. Schafer's completion percentage is just 59 percent, but he's thrown six touchdown passes and averages 34 yards rushing with two TDs on the season, giving Wabash its first look at a truly mobile quarterback.
The receiving corps for both teams is equally diverse. Wabash boasts five players with 14 or more catches and seven receivers have caught at least one touchdown pass. Wooster has four receivers with 11 or more receptions, though there has been little consistency among starters due to injuries and lineup shifts. Wabash's three-headed monster of Geoff Walker, Mike Russell, and Eric Summers gives Wabash an advantage over Wooster's key receivers, though Wooster has allowed only three passing touchdowns through five games.
The two teams match up evenly at running back; both use a trio of backs with solid, workman-like per-carry averages. For the year, Wabash is averaging 159 yards on the ground to Wooster's 173 yards-per-game average.
Both teams will try to establish a running game early on, especially with the threat of rain showers in northeastern Ohio. Again, the two teams are solid against the run with Wabash allowing just 1.7 yards per carry and Wooster allowing only 3.3 yards per carry.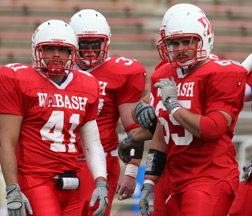 "I expect to see Wooster's absolute very best," adds Creighton. "They still have everything in front of them. They're very talented, and they've won the last two meetings against us. I expect a hard-hitting game between two good football teams."
Hard-hitting to be sure. Wabash's linebackers should be back to full force with the return of senior Aaron Selby, who missed two games with an injured foot. Tim Parker's groin is improved, and Josh Foster is coming off one of the best two-game stretches of his career. Add to that Adrian Pynenberg, the NCAC Defensive Player of the Week, and Wabash's defense appears ready for the task.
Wooster plays this year without Tony Sutton, the all-world tailback who shattered records at Wooster, the NCAC, and NCAA Division III. That makes the Scots more vulnerable to Wabash's aggressive defense. Containing the mobile Schafer is certainly critical if the team hopes to come out on top.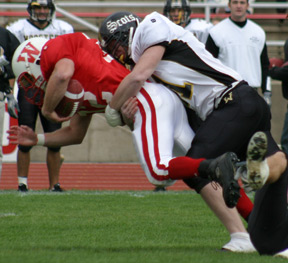 Meanwhile, Wooster's defense has played well throughout the season, allowing only 89 points in five games. Junior linebackers Andrew Smith (44 tackles) and Phil Vitalbo (42 tackles) are the team's leaders and routinely get pressure on the quarterback. Defensive end Evan Watson, son of Wabash theater professor Dwight Watson, is a powerful force from the outside. He has 30 tackles and three sacks thus far. On the other side is Andy Mizak, a quick and powerful end who boasts 4.5 tackles for loss and 2.5 sacks.
Wabash's success could come down to its ability to challenge Wooster's defensive backs as it did in last year's loss. Chris Craig is playing very good ball at strong safety, having made 37 tackles with one interception. Free safety Josh Feesler is also solid with 34 tackles and two interceptions, and he's also been a key stopper behind the line with three tackles for loss. Corners Darren Farmer (26 tackles, one sack) and Jeff Geffert (23 tackles, one interception) will certainly be tested this week. Wooster's ability to pressure Harbaugh could determine their success.
"Although we were 5-0 at this time last year, we were a frustrated 5-0," said Creighton. "This year we're less frustrated. There is still plenty of work to do, but we feel better about the way we've played as a team."
Photographs:
Top right: Wooster QB Justin Schafer hurt Wabash with his arm (168 yards passing) and his legs (77 yards rushing) in last year's game.
Top left: Wabash QB Russ Harbaugh is the eighth most efficient passer in Division III entering this week's game.
Bottom right: Wabash's defense is led by Tim Parker (41), Peter Kempf (37), Jared Lange (65), and Adrian Pynenberg (not pictured).
Bottom left: Wooster's Evan Watson (41) is the son of Wabash theater professor Dwight Watson.