Students Arrive Safely in Mississippi for Hurricane Relief Effort
by Howard W. Hewitt • October 10, 2005

Share:
More than 40 Wabash students arrived safely Thursday morning in Mississippi to help in hurricane relief efforts over their fall break.
Associate Dean Michael Raters reported receiving a phone call about 10 a.m. from junior Brock Johnson that they had just arrived. One of the College vans suffered a flat tire during the night, putting the crew a couple of hours behind schedule.
But already the trip was having an impact. Johnson told Raters the scene "was just unbelievable destruction."
President Andrew Ford, Dean Raymond Williams and Dean of Students Tom Bambrey were on hand when the group departed Wednesday afternoon, mingling among the students and wishing them well.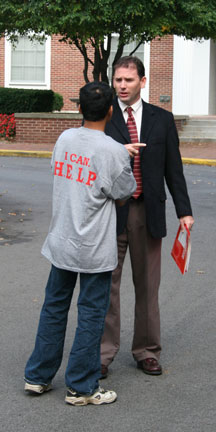 Ford and Associate Dean of Students Mike Raters, who helped organize the trip, heaped praise on the students as examples of what Wabash men do to show their commitment to the college's core values. Both wished the young men well and urged them to remain safe in the clean up areas. (See photo album of the student's departure.)
The students are expected to arrive early Thursday morning after the all-night drive and to immediately begin work. They will leave Mississippi Sunday morning for the trip back.
The Wabash College Sphinx Club helped spur interest in the trip. Club members were on hand grilling hamburgers and hot dogs to give their fellow Wallies a big send off.

One of the 44 students making the trip is junior Brock Johnson. Johnson, from Edinburgh, Ind., will be documenting the trip in photographs and coordinating a personal journal of those participating for online publication. Johnson is a photographer for the Bachelor and other student publications. Technology and internet access permitting, look for his updates beginning Thursday or Friday and each day of the trip!
Wabash has about nine students from Mississippi and Louisiana, most of whom have gotten home at least once since the hurricane came ashore six weeks ago. Nikeland Cooper, a senior from Moss Point, has gotten in touch with his hometown mayor and the city is excited Wabash men are on their way.
It's unclear precisely what Wabash students will be doing. The mayor has indicated that the shoreline is still littered with debris, which stretches throughout the town.
"The college is providing transportation and local organizations will provide shelter and meals when our students get there," said associate dean of students Mike Raters, who is helping organize the effort. "Our students will provide physical labor and an emotional lift to the beleaguered citizens of Moss Point and Pass Christian."
"I am extremely proud of your desire to serve," Raters said. "You represent the finest attributes of a Wabash Man - a man who demonstrates how important it is 'to think critically, act responsibly, lead effectively, and live humanely.' You are 'Some Little Giants.' "
In Pass Christian, Mississippi, 2005 Wabash graduate A.J. Lyman is on site as a member of the Emergency Response Team for Americorps. A.J. is coordinating the relief efforts there. If the name of the city sounds familiar, it should: ABC's "Good Morning America" program adopted Pass Christian and has helped organize efforts there.
"When the hurricane hit, our first concerns were with our students and their families and our alumni and their families," said Raters. "From that point on we've wrestled with how we might help. Most of the students affected personally have been back home and had a dual role when they got there: find out about their families and also come back with ideas of what Wabash students could do. And Nikeland's plans for Moss Point come from his trip home."
ABC and Americorps have things well organized in Pass Christian, so when the Wabash students hook up with A.J. Lyman, they'll be put straight to work. Things will be different in Moss Point and, potentially, Gulfport when the students arrive. There's much less organization and many people are still waiting on insurance companies to assess damage.
Freshmen Mitchell Wilczynski and Leander Jones both hail from Gulfport, one of the worst-hit cities in the south. Both were home last weekend and saw first hand the destruction caused by Katrina. They'll split off from the Wabash group when they arrive, then reconnect if and when they find work for the rest of the students.
Andrew Brimm is another freshman and he has yet to return to his hometown of Pascagoula, Mississippi. When he does get there next Wednesday, he's likely to be shocked by what he sees.
Hewitt is Wabash College's Director of New Media/Web Editor. Jim Amidon, Wabash College's Director of Public Affairs, also contributed to this story.
In photos:
Top left: Raters talks about the trip itinerary with a Wabash Student.
On homepage: President Ford sends the Wabash men off with encouraging words and a plea to 'stay safe.'
On faculty/staff homepage: Students begin filling up one of two vans and a bus with personal belongings and their sleeping bags.