Brick Wall Defense Leads Undefeated Little Giants
by Jim Amidon • October 6, 2005

Share: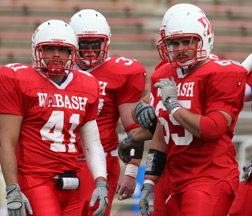 If there were any nagging questions about the defensive unit of the Wabash football team, they were answered Saturday in the Little Giants' 29-7 victory over Ohio Wesleyan. And the game wasn't as close as the final score would indicate.
Facing a vastly improved and more versatile Bishops' offense, Wabash held the hosts to just nine first downs and 126 total yards to spoil Homecoming at Selby Field. Ironically, Wabash senior playmaker Aaron Selby (no relation) didn't suit up for the game.
Pete Kempf, Josh Foster, Jared Lange, Adrian Pynenberg, Frank Knez, and Charles Jacksonall had five or more tackles on the day and held onto a shutout until the hosts scored with just six minutes to play in the game. Ohio Wesleyan netted just 2.1 yards per rush and had a total of only 51 passing yards. Billy King picked off his third pass of the season and Wes Anderson forced and recovered a Bishops' fumble.
"Our defense was great again Saturday," said Coach Chris Creighton. "Our guys really played the way we wanted them to."
Wabash's offense was workmanlike, again taking its first possession on a long scoring drive of 10 plays and 85 yards. The Little Giants had five drives of eight plays or more, and Wabash dominated time of possession by nearly 10 minutes in the game.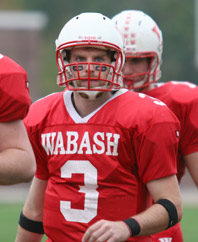 Brandon Roop rushed for a career-high 98 yards, while Chris Ogden added 40 yards and a touchdown on the ground. Senior quarterback Russ Harbaughwas nearly perfect, hitting 21-of-29 passes for 290 yards and a touchdown. He hasn't thrown an interception since the second possession of the season-opener. Eight different receivers caught passes, led by Eric Summers (5 catches, 101 yards, TD), Kyle Piazza (5 catches, TD), and Geoff Walker (4 catches, 75 yards).
Today, the Little Giants must avoid looking ahead to next week when Wabash travels to Wooster to meet the defending NCAC champions. Oberlin, in spite of a 1-3 record, boasts a balanced offense that averages 118 yards rushing and 208 yards passing per game.
Oberlin's offense is led by sophomore quarterback Andy Stein, who is completing 61 percent of his passes and averages 162 passing yards per game. His top receivers are Chris Schubert, who is one of the NCAC leaders with 34 receptions for 347 yards and two touchdowns, and Cassius Harris, who has three touchdowns among his 15 catches this year.
Oberlin gets balance offensively from freshman running back R.V. Carroll, who averages 77 yards per game. Carroll plowed for 117 yards in a 44-14 win over Macalester. However, he is likely to find running room scarce this week; opponents are averaging a measly 1.6 yards per carry against Wabash's defensive front.
"They are a young team, but I really believe they are an improved team from last year. I've been impressed with what I've seen from their freshman class; they are a very solid football team," said Creighton.
Defensively, the Yeomen are young and will struggle to contain Wabash's versatile attack. The Yeomen allowed 21 points to Kenyon last week and 45 points to Rose-Hulman the week before.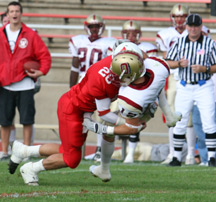 Senior linebacker Vance Murphy leads the team with 30 tackles and two interceptions, while sophomore defensive end Chris Pisani leads the team with 7.5 sacks and 10 tackles for loss. Fellow lineman Shawn Brunner is second in tackles and sacks with 21.5 and 3.5, respectively.

"Regardless of how we played last week or how we've played through the first four games, our guys know they have to show up and be ready to play against Oberlin or it means nothing," said Coach Creighton.

Wabash's 4-0 record to start the year is Coach Creighton's third perfect start as head coach, including last year when the team began the year 5-0. This is, though, his most balanced team to date; a team that boasts an offense capable of chewing up the clock and a defense that is fast, aggressive, and tackles well. Proof of this team's effectiveness comes in average time of possession through four games: Wabash 36 minutes, opponents 24.

"We aren't looking ahead, but we know what's ahead," added Creighton. "There's a big difference between those two things. We're watching our next opponent, Oberlin, but we have our eye on the prize of a conference championship and a berth in the NCAA playoffs, and we know what it takes to achieve that."

Notes: Wabash is pleased to welcome the county finals of the Punt, Pass, and Kick competition at halftime of this week's game. Also on hand will be the Faith Alliance, Montgomery County's breast cancer awareness and resource organization as part of national Breast Cancer Awareness Month.

Photos:

Top: Wabash's swarming defense held Ohio Wesleyan to nine first downs.

Middle: Russ Harbaugh chats with Coach Creighton and Coach Jozwiak during a time out.

Bottom: Josh Foster, named to the D-III Football National Team of the Week, tackles a Bishop at the goal line, nearly forcing a safety.




For more information see: