Alumni Return to Discuss Their Paths to Success
by Jim Amidon • October 4, 2005

Share: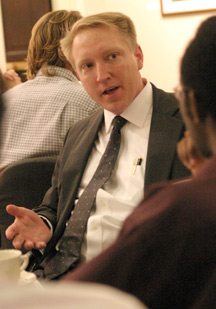 A group of Wabash College alumni and their guests returned to campus Monday night for the first "Industry Focus Group" dinner and discussion with Wabash students. The alumni spent a couple of hours telling students about their own paths to success, while answering the students' questions about career preparation.
The program, a part of the Lilly Endowment funded "Initiative to Promote Opportunity Through Educational Collaborations", aims to link alumni and friends of the College from Indiana with Wabash's student body. The goal is simple — an exchange of ideas about opportunities for professional careers in the state. A full house in International Hall of Detchon Center demonstrated this program is one that appeals to students and prospective employers alike.
The event was the continuation of a more intentional focus on early career planning and preparation, which includes the Alumni Speaker Series, the Business Immersion Program, the Marketing Immersion Program, and a number of paid internships.
The alumni and their guests returned in three broad career categories: healthcare; investments and financial services; and law. Click here to see photos from the Industry Focus Groups.
Terry Hamilton '89, the chief financial officer of St. Vincent's Hospital in Indianapolis, and Diane Iseminger, the internship and human resources manager for Clarion Health Partners, led the discussion on healthcare.
"Diane Iseminger is one of the principal grant collaborators," said Director of Alumni Affairs Tom Runge. "She felt the program was a great way to let Wabash students find out more about the health care professions in Indiana. She was also excited about the possibility of returning to campus for a series of job interviews, which comes as welcome news to our students."
Dave Herzog '77 of Baker and Daniels, Matt Price '90 of Bingham McHale, and Joel Tragresser '94 of Locke Reynolds led the conversation on careers in law.
The discussion on careers in investment management and financial services was led by Jason Cantrell '93 of Edward Jones, Bill Kennedy '83 of JP Morgan Chase, and Lee Hargitt '88 of Thurston, Springer, Miller, Herd & Titak.
The evening included a dinner and round table questions and answers.
In photos:
Pictured above is Lee Hargitt '88.
On student homepage: Bill Kennedy '83 from JP Morgan Chase
On alumni page: Lee Hargitt '88 is with Thurston, Springer, Miller, Herd & Titak, a financial services company talks with students.