More Associations Detail 'Wabash Day' Plans
by Howard W. Hewitt • October 3, 2005

Share:
The National Association of Wabash Men believe a national day of service fits right into Wabash's core values and the gentleman's rule. The inaugural Wabash Day, Oct. 29-30, will give Wabash alumni and students an opportunity to serve their community.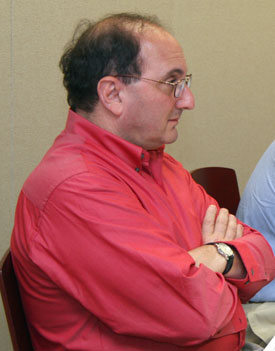 "Our core values come from two principle sources," Wabash Day chairman Jon Pactor '71 said. "The Gentleman's Rule requires us to be gentlemen and responsible citizens on and off the campus. Most of the time it's the gentleman part of the rule that is emphasized, but here we're talking about the responsible citizen part of the rule.
"The second source of the core values comes from the mission statement: to think critically, act responsibly, lead effective, and live humanely. If we think critically, act responsibly, lead effectively, we will make our communities live more humanely."
As many as 20 of the national associations have indicated they will participate in the community service project. But an added benefit thus far has been another way of bringing Wabash men together.
"I was enlisted out of necessity," Dustin DeNeal '04 said. "Bloomington has a large alumni base, and no alumni association. Because of this, Jon Pactor enlisted Pat East '00 and myself to organize the Wabash Day activities here.
"Wabash Day is a great chance for people to see the difference that Wabash men make in their communities. It's a relatively simple but influential opportunity. We hope to make a significant contribution to the community while at the same time demonstrating the impact that Wabash has on the world."
Pactor said DeNeal's attitude has been an added benefit to the NAWM's idea.
"We've already gotten success having alumni who haven't participated in much are now participating," the Indianapolis attorney said. "We have already succeeded in that associations have undertaken projects where they haven't been doing anything. And of course, whatever good we can do in our community will make Wabash Day a big success."
"It's a big deal to get a large number of people to volunteer to do something for someone else," DeNeal said. DeNeal and East will lead a group doing landscaping and sprucing up around a community youth center. "If nothing else, we're hoping it will be a great chance for Wabash men to reconnect and spend a day working together."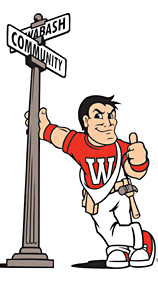 As many as 100 Wabash alumni may be tackling projects in Marion County and more across the country.
"We have about 30 associations that have indicated they will participate," Pactor said. "But we don't know how many volunteers any of those groups have yet."

"We're looking in Marion County to have maybe 50-100 or more volunteers. Montgomery County could also have a large turnout as well."
A full list of project leaders, and Pactor's contact information, is available on the Wabash website.
A look at planned projects: (Be sure to check back as we continue to update the list!)
Bloomington: Bloomington alumni will be helping out the Rhino Youth Center in downtown Bloomington. The center has just purchased a building and is making the move into it. They offer an alcohol-and tobacco-free environment for middle school through high school students after school with the focus on computer learning, graphic design, and writing/publishing. They also offer music and entertainment on Friday and Saturday nights. The Bloomington alumni and their families will be painting, disposing of large amounts of trash, landscaping, and general "sprucing up." To volunteer e-mail: Dustin DeNeal '04 ddeneal@indiana.edu or Pat East '00 patrick.east@hanapinmarketing.com
Brownsburg: The alumni of Brownsburg will be conducting a "Clothing Drive" with the Sheltering Wings. Sheltering Wings provides a safe have with 24-hour admittance for women and their dependent children suffering from domestic violence and works to reduce domestic violence. Wabash alums and their families will be coordinating pick-ups for clothing donations within their specific neighborhoods. Drop offs will be made on Saturday and Sunday, October 29 and 30. The alumni will be addressing some specific "need" items for the Shelter. To volunteer or get further details, contact Kelley House '90 at Kelley.House@twtelecom.com or at 317-508-7817 (cell).
Cincinnati: Alums, family, friends and prospective students are invited to join Wabash Day activities cleaning up brush from the Ohio River scenic view for Holly Hill Children's Service shelter. Participants are asked to bring weed whackers, clippers, yard tools, gloves, chain saws, etc. Holly Hill is an organization committed to improving the lives of children through services and programs. They run a residential center for adolescent girls experiencing emotional and behavior problems stemming from abuse and neglect. Lunch will be provided. RSVP or for more information contact: Steve King '97 king_stephen@nlvmail.com or Mike Baker '00 at Mike.Baker@owgc.org
Chicago: Alumni in Chicago will be involved in the habitat restoration in the Independence Grove Park from 9 a.m. to noon, October 29. They will be clearing a portion of the Des Plaines River Trail - a walking trail that runs north-south along the river through Lake County. Thanks to
Mark Dewart '74 at mark.dewart@abbott.com, 847-937-3178 (work) or 847-209-3239 (cell).
Colorado: John Panozzo '89 reports the alumni of the Denver area are committed to performing a "Grounds Improvement" project at The Karlis Family Center in Lakewood, Colorado. The Karlis Family Center is a domestic violence resource center, which provides programs for families who have experienced high-conflict separation or divorce, domestic violence or other abuse in the home. The center provides a safe, home-like environment and is open seven days a week. They provide several different counseling programs, support groups, supervised parenting and visitation, and safe exchanges. The center was founded over a decade ago by former Denver Bronco kicker Rich Karlis. The goal of the alumni is to help beautify the large outdoor grounds by a general clean up and repair of run down fencing as well as plant bulbs for a spring flower garden at their back entrance. To volunteer e-mail: John Panozzo '89 at PANOZZOJ@cs.com or Harry Phillips '65 mmchris-harry@mindspring.com
Columbus, Ind.: The Columbus alumni will be having a work day at Volunteers in Medicine on October 29. They will paint several rooms and do some other assorted handy work. They are working on the details. To volunteer, contact Dom Glover '93 at 376-8334 or
domglover@sbcglobal.net.

Crawfordsville: Wabash librarian Larry Frye is chairing an effort with the Sugar Creek Club. Frye has contacted the family crisis center, boys and girls club, and animal shelter about potential projects. To volunteer e-mail: Larry Frye H'01 at fryel@wabash.edu
Evansville: Evansville alumni will purchase and install a playset at a local homeless shelter for women and children. The alumni are raising funds for the project. To volunteer, contact Thom Leffick at LIFFICKT@southwestern.org.

Grand Rapids: In concert with volunteers from the Grand Rapids Police Department, the Grand Rapids Area Wabash Alumni and friends will be working to clean and repair the dining facility of Camp O'Malley, October 29. Camp O'Malley is a camp run by the Youth Commonwealth in close relationship with the Grand Rapids Police Department for the benefit of Grand Rapids area inner city youth. Inner city youth ages 6-16 attend the camp in the summer, focusing on outdoor environmental programs and camping activities designed to provide an outdoor experience and to increase self worth and empowerment for positive choices. Wabash Alumni and friends will join volunteers from the GRPD to work on the dining hall at Camp O'Malley to clean it and work on minor improvements. Two Grand Rapids police officers Wabash alumni Sgt. Mark Ostapowiccz '92 and Officer Keith Heffner '94, suggested the Camp O'Malley project. To volunteer e-mail: Jay Fisher '66 at wjf@fisher-dickinson.com
Kentuckiana: The Kentuckiana Association of Wabash Men (southern Indiana and Kentucky) will participate in a beautification project for LifeSpring Mental Health Services Sunday, October 30, 2005, starting at 1 p.m. LifeSpring is a community based mental health services agency that serves six counties in southern Indiana. They provide mental health services to individuals and families in this area, and over eighty percent of their clients have income of less than $20,000 annually. LifeSpring moved to a new building in 2003 that had been abandoned for years. Wabash
will help with the ongoing beautification around the grounds of its main office in Jeffersonville. Thanks to John Grannan '97 at johngrannan@hotmail.com.
Indianapolis: Partners In Housing Development Corp. is a non-profit organization that owns and manages facilities to house the homeless and people with special needs. It provides social services with the goal of making the residents self-sufficient. We will be doing a lot planting on the landscape at its eastside location. Frank Hagaman '72 is the president of PIH.
March of Dimes. We will be helping the March of Dimes place ribbons on 100-200 trees in three parks in downtown Indianapolis. Greg Mead '91 is assistant director of development with the MOD, and Dan Witte '92 is on its board.
The Villages. We will be helping the Villages with fix-ups at their center. The Villages is an incredible agency that assists abused children. Linda Adams, wife of Skip Adams '71, is its director of development.
Thrifty Threads. It is the consignment store for the Julian Center. It takes clothing donations and resells them. Volunteers will be organizing and preparing donated clothing for sale. This component is critical to the store's success because paid employees substantially defray the donation amount. Thus Thrifty Threads relies almost exclusively on volunteers for this task. NAWM plans to provide up to 30 volunteers. Bill Padgett '92 is on the Julian Center board. To volunteer in Indianapolis e-mail: Jon Pactor '71 at pactorlaw@iquest.net or Paul Jefferson '92 at paul.jefferson@BTLaw.com
Lafayette and Tippecanoe County: Alumni will be working the morning of October 29 on the local Habitat For Humanity's 20th Anniversary House called "Unity House" sponsored by Unity Hospital. To volunteer, contact Lou Fenoglio '81 at louis.j.fenoglio@smithbarney.com
Marion and Grant County: The Marion area alumni and friends will be helping out the Bridges to Health Program located at the St. Martin Center. They will not be performing the services Oct. 29 or 30 but will soon set a date. Bridges to Health is a local program that provides free healthcare for people in the community who cannot afford it. The center has just recently opened and currently provides healthcare and dental services. The alumni will help in building out the new eye exam rooms. To volunteer e-mail: Craig Miller '97 cmiller@progressivecancercare.com


Minneapolis-St. Paul: The Minneapolis Area Wabash Alumni will be providing services to People Serving People, Inc. (PSP), a homeless shelter and service center, on October 29. PSP provides temporary emergency shelter, full meal service, transitional housing, education and activities programming, and it works with more than 30 collaborative agencies to provide support for homeless families in the area. PSP can house up to 396 persons in its shelter and can house up to 44 persons (10 families) in its ten 2-bedroom transitional housing apartments. The alumni will work with the PSP by serving the early meal to the PSP residents and then providing transitional assistance to ready the food service for the next meal. To volunteer, contact Charlie Crowley '70 at ucam@qwest.net or mplscrowley@hotmail.com.
Nashville, Tenn.: Alumni will be supporting the Alzheimer's Memory Walk on Saturday, October 29. The walk registration will be at 9:00 a.m. in the Center Lawn at Centennial Park. To volunteer, contact JB Bachman '61 at jb61@bellsouth.net, or David Rich '01 at david.rich@leitnerfirm.com
St. Louis: Wabash alumni will collect wild seeds from the restored prairie at Shaw's Nature Reserve. The project was arranged through the Missouri Botanical Garden. For information, contact Charlie Raiser '69 at Charlieraiser@aol.com
South Bend and St. Joseph County: The alumni of South Bend and St. Joseph County will have a full-day of service at the YWCA beginning at 9 a.m., October 29. Each volunteer does not have to commit to a full day. The alumni will be working in the basement storage area, including building shelves, putting a sealant on the floor, and moving various materials. There may be some yard/maintenance work. Spouses and children are welcome, too. To volunteer, contact Peter Horvath '92 at Peter.F.Horvath.50@nd.edu.
Washington D.C.: The D.C. alumni still have two projects in the works after a change of plans. They still be working with Special Olympics, but they will also be working with the Greater Washington American Heart Association to facilitate its three-mile heart walk. Both events will be October 29. A prior plan regarding the identification of children in cooperation with local police will not work out. To volunteer e-mail: Scott Medsker '03 at 61medsker@cua.edu or Rick Strasser '02 at mmjester4010@hotmail.com
In photo:
Jon Pactor '71 at recent NAWM board meeting.