Campbell '92 Appointed to NAWM Board of Directors
by Jim Amidon • September 29, 2005

Share: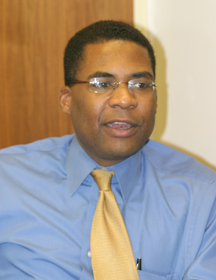 Steve Campbell '92 has been appointed to the Board of Directors of the National Association of Wabash Men, the College's official alumni governing body.
Campbell, who is deputy mayor of communications for the City of Indianapolis, assumes the position vacated when Mark Dewart '74 was elected to be the Board's recorder at meetings over Homecoming weekend. The NAWM Board's president is William "Jay" Fisher '66; Jim Dimos '83 is vice president.
Campbell will serve the final year of Dewart's term and will then run as an incumbent in next spring's alumni elections.
"We are very excited to have someone with Steve Campbell's abilities on the Board of Directors of the NAWM," said Tom Runge '71, director of alumni and parent relations at Wabash. Steve's involvement in politics and experience in communications in Indianapolis, both at the state and city level, will be valuable assets for the Board and, ultimately, for our students."
Campbell's will join the Board for its January meeting.