The Andersonville Trial Continues Tonight
by Karen Handley • September 29, 2005

Share:
The Wabash College Theater Department will present its first theater production of the season, The Andersonville Trial by Saul Levitt, which will run from October 5-8 in Ball Theater in the Fine Arts Center. The performances are scheduled for 8 p.m. each evening.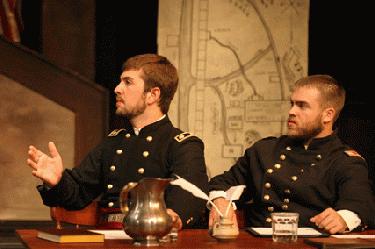 Click here to see photos from The Andersonville Trial.
The Andersonville Trial is a striking courtroom drama about a famous event in American history: the military trial of Henry Wirz, who was commander of the Confederate prison at Andersonville during the Civil War. Torn by awful memories and coldly pursued by his prosecutor, Captain Wirz maintains he ran Andersonville as a soldier acting under superior orders. The crux of this stirring play raises the question of when the responsibility of the individual to the conscience transcends any power of authority.
"The Andersonville Trial" is the pure and genuine quill of theatre, written to stand your hair on end." –Morning Telegraph
The cast list includes Wabash students: Peter Wagner as General Lew Wallace; Matt Olivarez as Captain Williams; Denis Farr as Otis H. Baker; Brandon Stewart as Lt. Col. N.P. Chipman; Aaron Mann as Henry Wirz; Ross McKee as Major D. Hosmer; Reynaldo Pacheco as Louis Schade; Danny Lippert as Dr. C.M. Ford; Richard Winters as Court Clerk; Jacob Peerman as Lt. Col. Chandler; Travis Mclaughlin as Dr. John C. Bates; Emanuel Harper as Ambrose Spencer; Dustin Foster as James H. Davidson; Matt McKay as Jasper Culver; Ian Bensberg as James W. Gray; Jonathan Grandoit as a Union Soldier; Tyler Williams as a Court Reporter; and Timothy Closson as a newspaperman.
Dwight Watson is the director. Scene and lighting designer is James Gross; costumes by Laura Conners; stage manager, Donald Claxson; and assistant stage manager, Nick Kraynak.
In 2005-2006, seating for Theater productions will be by general admission, though free tickets are required for Theater productions.
For tickets contact the Fine Arts Center Box Office by email at boxoffice@wabash.edu; phone: 765-361-6411; or by mail at Fine Arts Center Box Office, Wabash College, P.O. Box 352, Crawfordsville, IN 47933-0352. Box Office hours are Monday through Friday, 8:30 a.m. to 12 noon and 1:30 to 4 p.m. The box office will open 90 minutes before curtain time. Tickets not claimed at the Box Office 10 minutes prior to curtain will be released to the general public.
Other theater productions for the 2005-2006 season include: Studio One Acts: The Vietnamization of New Jersey on November 9-11; Churchill at Eight: Two Plays by Caryl Churchill on February 22-25; and The Braggart Soldier on April 19-22.