Undefeated Wabash Heads East for Defensive Collision
by Jim Amidon • September 29, 2005

Share: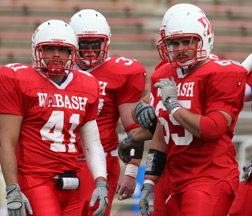 Despite the fact he's never lost to the Ohio Wesleyan Battling Bishops, Wabash head football coach Chris Creighton is plenty nervous about Saturday's game in Delaware, Ohio.
"This is the first of about 15 games around the conference that can really determine which team wins the title," says the fifth-year Wabash coach. "I think we're ready for a big game, and now it's here. We've played well against good teams in big games in the past, and I think we'll be ready to play against a really good team in Ohio Wesleyan in a really big game this week. Remember, Ohio Wesleyan got a first place vote in the conference preseason poll; it's their Homecoming; it's a great stadium to play in; and it should be an electric atmosphere."
The North Coast Athletic Conference's top two defenses collide this weekend in what appears to be a make or break game if either the Little Giants or Bishops hope to claim the NCAC championship. Ohio Wesleyan returns all 11 starters from last year's smothering defense, while Wabash has the bulk of its starters back from last year's team that was the top defensive unit in the league.
Through three games this year, Wabash (3-0) has allowed just 15 total points and gives up a league-leading 196 yards of total offense per game (11th best in Division III). Having healthy linebackers has been key to Wabash's success; injuries haunted the Little Giant defense a year ago. Sophomore Adrian Pynenberg leads the team with 20 tackles, 8.5 tackles for loss, and one interception. Seniors Josh Foster (15 tackles), Aaron Selby (12 tackles), and Tim Parker (6 tackles) are all making it hard for offenses to move the ball on Wabash.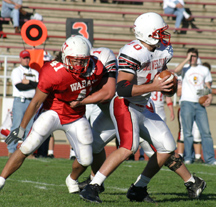 The key this week, though, will be for Wabash to contain OWU's talented quarterback Ryan Sir Louis. Louis can pass (200 yards per game) and run (61 yards per game), so the play of defensive linemen Tamarco White, T.J. Schaffer, and Jared Lange — particularly their ability keep Sir Louis from breaking outside — is critical to Wabash's success.
Sir Louis has helped the Bishops to a 2-1 start by leading the pass-happy Wing-T offense almost flawlessly. The Ohio Wesleyan squad that struggled to score a year ago is putting up 29 points and 394 yards per game this year, which adds a critical dimension to Coach Mike Hollway's defensive-minded approach. Receivers Zach Dennis (14 catches, 2 TDs) and Nick Rice (13 catches, 2 TDs) are terrific targets for Sir Louis.
"Ryan Sir Louis is a dangerous player because he's a good passer, but he can make a lot of things happen with his athletic ability. He makes you stay sharp and play honest on defense," said Creighton.
Indeed, defense is still the Bishops' strength. Cisco Clervoix, a senior defensive end, is one of the best linemen in the NCAC and his team-leading 20 tackles and two sacks prove he continues to be a force. Owen Case, too, is off to a big start with 20 tackles and two forced fumbles.
Wabash quarterback Russ Harbaugh has been almost perfect since throwing an interception on his second pass of the season. Since then he's thrown nine touchdown passes without an interception on 90 attempts.
"We want to run the ball better than we have," says Creighton. "We started out well against Kalamazoo, but have struggled in the last two games. That will be a key against Ohio Wesleyan."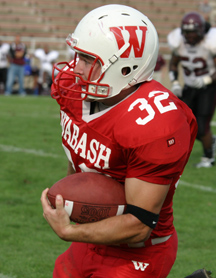 Creighton knows the running game must produce since Ohio Wesleyan's secondary is anchored by two All-NCAC picks in Kyle Sherman and Tom Thome (13 tackles). Linebacker Chad Ellis (16 tackles) will try to make things difficult for Harbaugh, too.
Since gaining more than 100 yards in the Kalamazoo game, Wabash junior Don Juan Brown has seen his average yards and carries drop slightly in the last two games. He's still averaging 81 yards per game, but is splitting time with a healthier Chris Ogden, who led the team against Earlham and now averages 41 yards per game.
While every coach desperately wants to run the ball to control a game, Harbaugh has proven he can control the clock with the passing game. Last week the senior quarterback directed an 18-play, 10-minute scoring drive to open the Earlham game, effectively breaking the Quakers' backs before the offense even stepped foot on the field.
Having receivers like sophomore Mike Russell (12 catches, 3 touchdowns), Geoff Walker (18 yards per catch, 2 TDs), Ray Green (11 catches, 2 TDs), Eric Summers (10 catches, 1 TD), and Kyle Piazza (11 catches) gives Harbaugh plenty of options to pick apart defenses. Through three games, Wabash is completing 68 percent of its passes and averaging an even 300 yards per game.
"They've never made things easy on our offense; we've relied on our defense to beat them in the past," added Creighton. "This will take our best effort to win. It will be a battle."
In the photographs:
Homepage: Jared Lange sacks OWU quarterback Ryan Sir Louis near the end of last year's game.
Top right: Aaron Selby (38) and Tim Parker (41) combine for a hit vs. Earlham.
Center left: Tim Parker (41) is held as he tries to get to Sir Louis in last year's game.
Bottom right: Chris Ogden led the team in rushing in last week's 50-2 win over Earlham.