Clinton's Staffer Shares Personal Journey
by Howard W. Hewitt • September 27, 2005

Share:
Gay activist and author Keith Boykin bemoaned the continued debate over gay marriage Tuesday night at Wabash College while sharing his personal journey through education, politics and activism.
Boykin, who was the highest ranking openly-gay official in the Clinton White House, is a New York Times best selling author, columnist, and leading spokesman on gay rights issues for African Americans.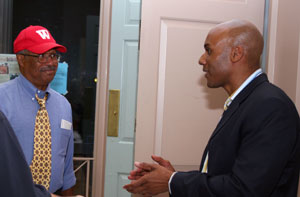 "Gay marriage is the biggest issue in the gay world today and it's not even the gay community's issue," Boykin told the Baxter 101 capacity crowd. "A lot of people would like this issue to go away. The only people who want this issue to come up are the religious right.
"Karl Rove (White House political advisor) tried to push this further into the agenda. The gay community never pushed it because they knew it was a loser. The religious right will try to push it again in 2006 and 2008 and try to get some mileage out of it."
During the question and answer session which followed his hour-long prepared remarks, Boykin went to great lengths to explain gay marriage was not a key issue to gay organizations and not even one of his primary concerns.
Afterwards, he struggled to suggest ways the gay political leadership could change the conversation.
"It's hard because the media are really interested in this issue," the Dartmouth and Harvard law graduate said. "I could talk about health care all I want but it won't get covered. If I was to talk about gay marriage the media would be much more interested. It's a very challenging issue. One answer is to come with another sexy topic they are interested in and the gay community wants to push, maybe that would help."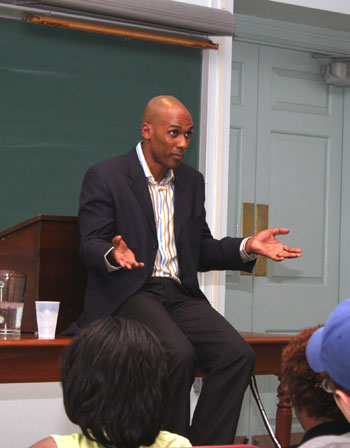 It's a combination of the gay marriage issue and what Boykin calls the homophobic black churches that angers him. Boykin has taken to "outing" or calling into question the sexual orientation of prominent black ministers who have consistently spoken out against gay marriage and homosexuality.
His web site is getting thousands of hits, many negative for his actions. He returns to the gay marriage issue to make his case. He suggested religious right leaders used the gay marriage issue in the 2002 election urging ministers to speak out from the pulpit. The idea, Boykin said, wasn't so much to get the traditionally African American democratic base to vote Republican, but hoping they wouldn't vote at all.
"They were bought and paid for by the religious right," he said of the black ministers. "There are some public figures out there that are harmful to the black gay and lesbian community and they're gay.
"The black church is the most homophobic in the black community, bar none. But they are also the most supportive."
Boykin said many black ministers will preach the tired lines of "Adam and Eve, not Adam and Steve" or quote Leviticus and do so in front of many gay members in their own congregations. They do not, though, mention the other abominations mentioned in Leviticus that seem silly to most.
He felt as though he had heard enough as a Christian and he had to take action through his website. "I just reached the point where I've become much more radicalized."
Wabash senior Dunmoni Owolabi, president of the campus gay student organization sh'OUT, introduced Boykin and said the author's books helped him come out to his family and friends.
"It was fantastic," Owolabi said of the speech. "I was afraid of him being too controversial and specific, but he was more universal than anything. He was politically and socially motivational and it was a joy to hear him speak"
Boykin used the first 30 minutes of his remarks to talk about his path through life and his political activism in several campaigns including the Walter Mondale and Michael Dukakis presidential bids before joining Clinton-Gore. He told with wit and passion the story of how he 'came out" about his sexuality to his mother and how his grandmother reacted to the news.
But his real message was encouraging the packed crowd they must be themselves. "When we are being courageous it helps others to be courageous," he said of coming out and taking sometimes unpopular stands.
He urged those in attendance to not only vote but to support their elected officials and to let them know when they are right or wrong on an issue.
Boykin was instrumental in the debate on gays in the military during President Bill Clinton's first term. He felt Clinton's backing away from the issue was a betrayal and eventually left to write his first book, One More River to Cross: Black and Gay in America. He has written two more books since then. He's a frequent media contributor, columnist and popular lecturer.
Hewitt is Wabash College's Director of New Media/Web Editor.
In photos:
Top right: Boykin talks with Malcom X Institute Director Horace Turner
Lower left: Boykin answers questions following his speech.