Biology: Maureen McColgin
by Jeremy Sexton '07 • September 26, 2005

Share:
Maureen McColgin is a visiting professor of Biology who is glad to be back in the classroom.
Professor McColgin is originally from Mesa, Arizona, but attended Willamette University in Salem, Oregon. She now finds herself teaching at Wabash College.
"I got to know the faculty and the students and it was a place where I really wanted to be," McColgin said.
"The students are very motivated here and you get quite a wide range of them," the Arizona native said. "I want to do the best I can for the students. The benefit to being at a small college like this is the fact that you get to have a lot of one-on-one time, and the open door policy allows students to be comfortable enough to come and ask professors for help. That is a big part of it for me being able to interact with students both in and out of the classroom."
Professor McColgin teaches Biology 111 and the senior seminar. Also, she had the chance to go to Ecuador with Dr. J.D. Phillips and several Wabash students this summer to study Ornithology as well as Ecology.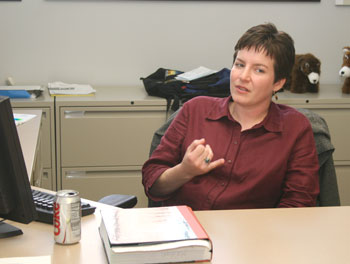 "It was my first chance to interact with students and teach. It was a really great experience." McColgin said. "I was overwhelmed as a biologist to have the opportunity to venture into the rainforest. I would do it again in a heartbeat."
Professor McColgin missed the first few weeks of school due to an illness, but she was eager to get back into the classroom.
McColgin is currently pursuing graduate studies at Purdue University. Her doctoral thesis is on the sociology and genetics of coatis in southwestern Arizona. McColgin lives in Crawfordsville with her husband, Lon Porter, and their two cats and one dog, Zorro. She enjoys reading and training Zorro for competitions. Together Porter and McColgin are avid hikers and love to travel.
Sexton is a Wabash College junior and English major. Robert Boarman, a writer for The Bachelor, also contributed to this story.