Dave Callecod '89 Wins Prestigious Award
by Media Press Release • September 26, 2005

Share: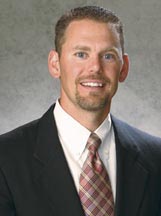 Marion General Hospital's David L. Callecod '89, president and chief executive officer, recently received the American College of Healthcare Executives Senior-Level Healthcare Executive Regent's Award. The award recognizes ACHE affiliates who are experienced in the field and have significantly contributed toward the advancement of healthcare management excellence and the achievement of the goals of the ACHE.
ACHE, an international professional society of nearly 30,000 healthcare executives, is known for its prestigious credentialing and educational program and its annual Congress on Healthcare Management, which draws more than 4,000 each year.
Callecod, an Indiana native, earned his bachelor's degree from Wabash College, his master's in business administration from Indiana Wesleyan University, and Fellowship from ACHE. Callecod came to MGH in 2003 after serving as the CEO for the 195-bed Central Arkansas Healthsystem in Searcy, Ark. He and his wife, Kimberly, have three children, Ellen, Ian and Nolan.