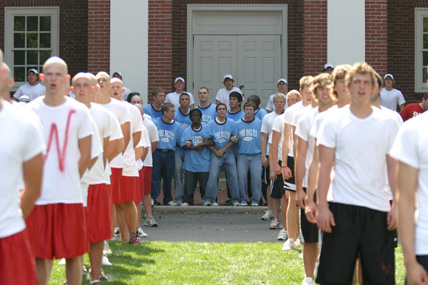 Homecoming festivities got under way Thursday when the Sigma Chi pledge class captured the 2005 Chapel Sing competition. Sigma Chi edged out Lambda Chi Alpha and Phi Gamma Delta, which finished second and third, respectively.
Click here to see the 2005 Chapel Sing photo album.
The age-old event attracted virtually the entire campus to the mall to kick off Homecoming activities. Freshmen will continue to work on living unit decorations for Saturday judging. Also Saturday, freshmen will compete in banner, cheer, and queen contests. Also on tap for Homecoming:
• The Phi Delts will dedicate their new house with a ribbon cutting ceremony at 10 a.m. Saturday.
• The NAWM holds its annual meeting at the Homecoming Alumni Chapel at 11 a.m. Saturday.
• The Celebrating Leadership Luncheon will be held in Knowling Fieldhouse at noon Saturday.
• Wabash hosts Earlham College in NCAC football action at 2 p.m. Saturday.
• The Music Department hosts the Homecoming Concert Saturday night at 8:00 p.m.
The Sphinx Club made some rule changes to Chapel Sing for the 2005 competition. Freshmen were lined up vertically on the mall with their backs to the Chapel. Pledges and independent men were three feet from their nearest classmate, which allowed Sphinx Club members to move easily through the crowd to determine which rhynes really knew the words to Old Wabash. Freshmen needed to know both verses to the song, and be prepared to be pulled out of line to sing in front of Sphinx Club members in the Chapel.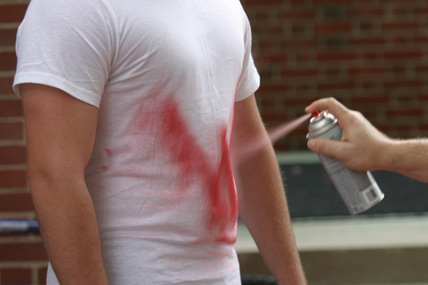 Every freshman was asked to wear a clean white t-shirt. In holding with long-held tradition, Phi Delta Theta bagged the new rules, wore their baby blue fraternity shirts, and banded together in front of the Chapel.
Rhynes who did not satisfy Sphinx Club members with their knowledge of the words to Old Wabash, received the Scarlet Letter — a bright red, spray-painted "W" in the middle of their chests.
Five pledge classes were named finalists and got to perform independently of other houses inside the Chapel. Sphinx Club Vice President Jake Koeneman tested their knowledge of the first verse, second verse, chorus, and refrain.
Click here for a photo album from Friday's Homecoming activities — the NAWM Board of Directors meeting and BBQ & TWR.