Defense Lifts Little Giants to 23-7 Road Victory
by Jim Amidon • September 17, 2005

Share: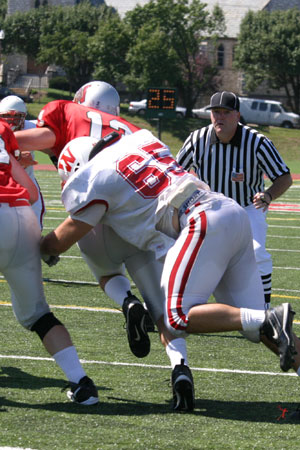 The looks on the faces of the Little Giants would have made any observer think that the Wabash football team fell in its road game at Washington University. "That wasn't our best effort," said head coach Chris Creighton. "but we should celebrate every win over a good football team."
Indeed, Wabash's 23-7 victory over the Bears left a bad taste in the mouths of the Little Giants, especially those on the offensive side of the ball. After building a 14-0 halftime lead, Wabash was unable to sustain offensive momentum in the second half.
Wabash made it 20-0 after linebacker Adrian Pynenberg intercepted a pass on Washington's first possession of the second half. Quarterback Russ Harbaugh threw his third touchdown pass of the game and sixth of the young season when he hit Geoff Walker on a 31-yard scoring strike just 1:04 into the second half.
Washington owned much of the second half from that point, totaling 204 yards and sustaining 10-play, 99-yard drive to draw within 13 points at 20-7. But Wabash's defense, as it had all game, dug deep and made key stops at key times with the clock ticking down.
The Little Giants tacked on a 43-yard field goal by Chad Finley for the final margin of victory.
"From what I saw we improved on special teams, and I was especially pleased with the performance of our defense," said Creighton, whose team is 2-0 heading into Homecoming next week. "We relied too much on our defense today, and we'll make some adjustments and improve."
The first half was a dominating display for Wabash on both sides of the ball. Harbaugh led Wabash on a couple of 56-yard scoring drives, tossing a 56-yard bomb to a wide open Mike Russell for the game's first score, then finding a diving Ray Green from 11 yards out for a 14-0 lead just before halftime.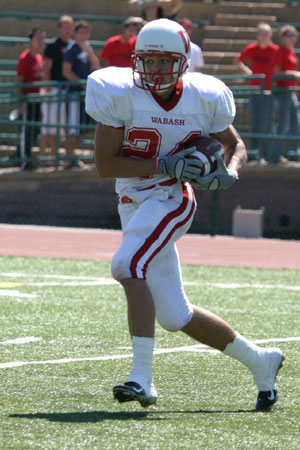 Harbaugh completed 11-of-20 passes for 168 yards in the opening stanza. He finished the game 18-for-33 for 256 yards and three scores, and added 23 yards rushing.
The defense held the Bears to 46 yards rushing, made six sacks, picked off two passes, and held the Bears to 280 total yards in the game. Josh Foster had 10 tackles, Tim Parker had six, and Pyneneberg had six, including five for losses.
"I was pleased that we did a better job taking care of the football," said Creighton, whose team did not turn the ball over. Meanwhile, the defense picked off two Washington passes.
Wabash's defense was inspired early. Washington didn't record a first down until its fifth possession, 18 minutes into the game. Four Little Giants made sacks in the period, and Washington had minus-four rushing yards and just 76 total yards in the half.
Kicker/punter Chad Finely had a huge day, averaging 41.7 yards on seven punts, including two that were downed inside the Washington 10-yard line. He also hit a career long 43-yard field goal.
Offensively, tailback Don Juan Brown picked up 55 tough yards on 15 carries. Ray Green led the receiving corps with six catches for 65 yards, while Mike Russell added five catches for 94 yards.
Wabash is 2-0 for the second straight year and will host Earlham College in a 2:00 p.m. Homecoming contest September 24 at Hollett Little Giant Stadium.
Photos: Jared Lange (65) makes one of Wabash's six quarterback sacks. Mike Russell (24) hauls in a 56-yard touchdown pass for the game's first score.