Former Clinton Aide to Speak on Race, Sexuality
by Karen Handley • September 15, 2005

Share:
Keith Boykin will give a talk at 8 p.m. Tuesday, September 27 in Baxter Hall, room 101. Boykin's talk is titled, "One More River to Cross: Black & Gay in America." His talk is sponsored by the Wabash College MXI, shOUT, Gender Issues Committee, Multicultural Concerns Committee, and the Hadley Fund.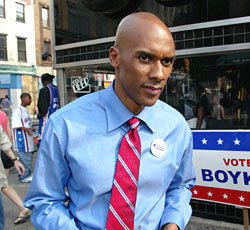 Born on the anniversary of Dr. King's famous March on Washington, Keith Boykin has become one of the nation's leading commentators on race, sexuality and politics. A former White House aide to President Clinton, Boykin is also a New York Times best selling author, reality television star, lawyer, educator, and activist.
Boykin appeared on the Showtime television series American Candidate and is a frequent presence in the media. He has appeared on VH1, BET, CNN, Fox News, NPR, and numerous other television and radio programs, including the Dennis Miller Show, Tom Joyner Morning Show, Tony Brown's Journal, and Anderson Cooper 360. He has been featured on the cover of several publications including A&U, Out, and, The Advocate, and he was selected as one of Out magazine's 100 most intriguing people of 2004. He has also been featured or quoted in articles in the New York Times, Washington Post, USA Today, and JET magazine.
After graduating from Dartmouth College, Boykin worked for the Dukakis for President Campaign and then entered Harvard Law School, where he was a leader in the campus diversity movement and general editor of the Harvard Civil Rights-Civil Liberties Law Review. When he received his J.D. from Harvard, Boykin turned down a lucrative offer to work for a major California law firm so he could join the Clinton/Gore Campaign in Arkansas. Afterwards, he became a Special Assistant to the President and Director of Specialty Media. Once the highest-ranking openly gay person in the Clinton White House, Boykin helped to organize and participated in the nation's first meeting between gay and lesbian leaders and a U.S. President.
Boykin left the White House to write his first book, One More River to Cross, and has since become an award-winning author, a political lecturer, a college professor, and an ambassador for change in America. He has written for the Village Voice, San Francisco Chronicle, the St. Petersburg Times, The Advocate, Black Issues Book Review, and Crisis Magazine. His syndicated column appears in several newspapers across the country, including the New York Blade, the Washington Blade, The Southern Voice, and The Houston Voice.
His new book, Beyond the Down Low, was released in February 2005 and immediately shot to the New York Times bestsellers list. Currently, he writes daily commentary on his website, keithboykin.com, which averages more than 70,000 hits per day, making it the leading website of its kind. Boykin was born in St. Louis, Missouri and lives in New York City.
His talk is free and open to the public.