Workshop explores artist's role in the face of tragedy
by Steve Charles • September 15, 2005

Share:
Award-winning author Tayari Jones had planned an exercise called "A playground point of view" for her morning writing session with Indiana English teachers at the College's Creative Writing/Creative Teaching Workshop.
Hurricane Katrina changed her mind.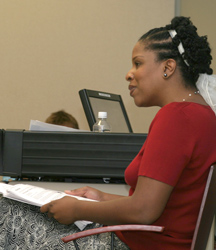 "I've been very moved by the recent events in New Orleans and the Gulf Coast," said Jones, who grew up in Atlanta and whose novel about the child murders in that city during her childhood earned critical acclaim. "I've been asking myself, 'What is the role of the writer in the face of tragedy? Why do we write when people around us are suffering?
"That got me to thinking about why I wrote my book Leaving Atlanta," Jones said. "Why did I write about these murders from a period of time that had been all but forgotten? My answer was, 'Because it mattered to me.'"
Handing out news accounts of people's struggles during the disaster, Jones helped the teachers create fiction from those stories that reached for the deeper human truth behind them.
"I want us to think about why we write 'make-believe' when there are things happening that are so important," Jones said. "What does this work do to nourish the people who read it? How can we use writing to help us make sense of what we're seeing, to help our students make sense of it and better understand it?"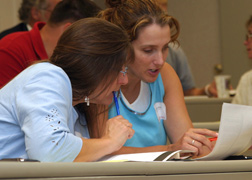 The exercise was only the beginning of a day-long collaborative workshop attended by more than 40 high school and middle school English teachers from across the state.
In the afternoon, workshop organizer and Wabash Associate Professor of English Joy Castro, whose just-published memoir The Truth Book is being praised by writers and critics, offered a session on incorporating "life-writing" into the literature classroom.
"As I did the life-writing exercise, I had a personal epiphany," one teacher noted after the session. "I'm hopeful that my own students can have that happen as we try these exercises."
"The day was intriguing and inspirational," another teacher wrote on the workshop evaluation sheet. "I think a day of writing helps public school teachers recharge. We take home so many ideas from the presenters and other teachers—ideas we'll be able to use immediately with our own students."
Wabash writing students also sat in on the workshop.
"They had an opportunity to learn from a nationally recognized, award-winning literary novelist in a classroom setting and to interact informally with teachers of creative writing," Professor Castro said. "As aspiring creative writers, some of them may be considering teaching as a day-job, and this gave them a chance to engage with professionals in the field."