Jones Shares Childhood Memories Through Her Reading
by Jeremy Sexton '07 • September 9, 2005

Share:
Author and assistant professor of English at the University of Illinois, Urbana-Champaign, Tayari Jones, read from her novel Leaving Atlanta Thursday in Korb classroom. Jones was a guest of the Will Hays Jr. Writer Series established in 2002 and made possible through the generous donations from the Hays family and friends in memory of Will Hays.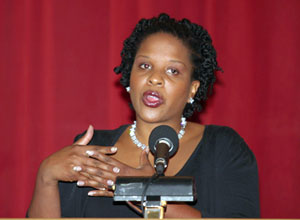 The novel is set in Atlanta during the horrible child murders of 1979-1981 when nearly 30 children were murdered, two of which happened to be Tayari's classmates.
"I wrote this novel to make a record of how life was for those of us who were too young to understand the complicated social and political landscape of Atlanta," said the award-winning author. "It is a love letter to my generation and also an effort to remember my own childhood. It's to remind myself and my readers what it was like to have been eleven and at the mercy of the world. And despite the obvious darkness of the time period, I also wanted to remember all that is sweet about girlhood, to recall all the moments that make a person smile and feel optimistic."
Professors Jones' language and subject matter were presented with the utmost honesty and passion as she gave witness and presented a testimony that was compelling and immediately showed the reader the tension of uncertainty between being an innocent child and not knowing when that innocence can be taken away.
"The story itself is riveting, to hear the juxtaposition of evil and innocence is heart wrenching," said Patrick Myers, Professor of Latin at Wabash College. "It's problematic to hear such beautiful language that was written about such an unfortunate set of circumstances."
"The experience was crystallizing," Wes Jacks '06 said. "She has a unique voice that is potent and engaging."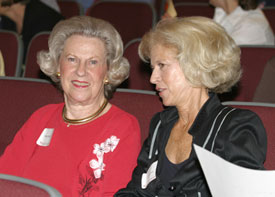 Jones tells her story through the eyes of three fifth grade school children who live in a world dominated by fear and disbelief.

"I try to let the character determine the point of view of the story" said the Hurston/Wright award winner for debut fiction. "Writers get interested in filling in the gaps. They forget what is happening right in front of them. Luckily, I wasn't encouraged to write when I was younger. Fortunately, this provided a space of indifference for me. My writing belonged to me."

Tayari was born and raised in Atlanta, Georgia, where she spent her whole childhood with the exception of the one year she and her family spent in Nigeria, West Africa. Jones' second novel, The Untelling, was published by Warner Books in April of 2005.

As part of efforts to raise money for the victims of hurricane Katrina, Tayari is giving signed copies of her novel to those who donate to the cause. For more information, see her website: TayariJones.com.

In photos:

Top right: Jones reads from her award-winning novel.

Lower left: Ginny Hays, wife of Will Hays Jr., and Kathy Hays Fox, daughter of Will and Ginny, enjoy Thursday's reading.

On homepage: Jones signs a copy of her book for President Ford.




For more information see: