The ravage power of Hurricane Katrina has affected students, alumni, faculty, and staff in different ways. Professor Stephen Morillo was deeply anguished to watch his hometown of New Orleans go underwater but has been profoundly moved by the Wabash community reaction ever since.
"As the storm bore down on that Sunday night, I grimly assumed the worst, imaging the entire lake pushed by a 30-foot storm surge over the levees and into the city, putting everything under 20 feet of water," the chairman of the history department said.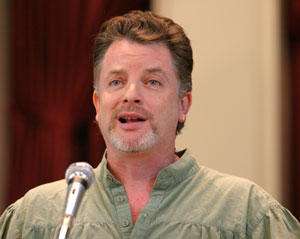 Morillo's family has since moved from the New Orleans area but he did have many friends still living there. To date, most have reported being safely away from harm.
Morrilo gave the school year's second Chapel Talk and spoke of New Orleans' history with passion, humor, and a political swipe.
He talked movingly of areas of the city he had visited and known during his 27 years living there. He described the ninth ward, near the famed French Quarter area. He mimicked the 'nawlins' accent and his love for those people.
"It's musical, it's swampy, it's warm and humid … it's home. It was under 15 feet of damned flood water."
That brought the only visible emotional reaction from the Rhodes Scholar and Harvard graduate. The other strong emotion was expressed during his remarks.
"The day after the storm I'm thinking, 'my city is under water.' Then I started to see all these e-mails from students saying we've got to organize relief efforts," he recalled. "That was really moving and made me feel good about our community here."
The e-mail deluge was started by Josh Owens '07 a Sphinx Club member who organizes Chapel Talks. "There were all these e-mails out there so we talked about it in the club," he explained. "We talked about uniting campus. One thing Chapel is supposed to do is talk about our principles and what we stand for. We figured if we could use Chapel for what it's supposed to be then I think everyone is better off."
The Wabash community turned out in force with hundreds of students joining faculty, staff, and President Ford in the audience to hear Morrilo's remarks. A collection was taken for the disaster relief efforts spearheaded by the American Red Cross. The Wabash family contributed $2761 at the Chapel, with plans to continue to raise funds through Homecoming.
Morillo urged everyone to give what they could; calling New Orleans a great city that can and must be rebuilt. He even referred to it as the Atlantis that would rise again.
"Parts of the city are going to be an awful mess. It's going to take months to even get started. Some people haven't been able to get out, even now. Some people won't return. But most New Orleanians love their city so much they can't imagine not returning."
He had strong words for the federal government's response to the disaster and ended with a reminder bigger issues affect all citizens.
"More and bigger storms are coming. Global warming, a scientific fact, makes that inevitable. And in that sense, if we don't start working to repair our climate and our Earth, we're all new Orleanians, and we're all in for another disaster."
Hewitt is Wabash College's Director of New Media/Web Editor.
In Photos:
Above, Morillo talks about hometown New Orleans.
On homepage, A big bucket contains donations totaling $2761.