Students to Aid Hurricane Relief Effort
by Howard W. Hewitt • September 5, 2005

Share: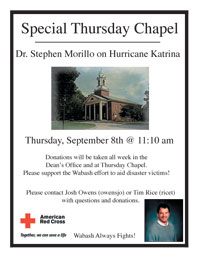 Wabash College students will turn their attention to helping victims of Hurricane Katrina this week.
Senior Josh Owens, who coordinates weekly Chapel talks, has announced plans to have Dr. Steven Morillo speak at Thursday morning's Chapel. Morillo is a New Orleans native. He will be speaking about the hurricane's impact what people can do to help out the area.
"I think this will bring the news on the television home to us here in Crawfordsville, using Chapel for one of its intended purposes," Owens said. "We are going to be taking donations at Chapel that will be sent along with whatever else can be raised this week to the hurricane relief fund."
Owens is trying to rally other campus organizations to the cause and placing signs around campus promoting Morillo's 11:10 a.m. talk. He is hoping to generate a larger-than-usual turnout considering the circumstances.
Collections are also being accepted through the Dean's office in Center Hall.
"If anyone has ideas as to how they or others can help unify this effort, send me an e-mail," Owens asked. "Please encourage members of your group, living unit, or work place to attend this week."