Rhetoric: Allwyn Tellis
by Jeremy Sexton '07 • September 2, 2005

Share:
Allwyn Tellis is a visiting instructor of Rhetoric who wants to become involved with Wabash students outside the classroom.
Tellis, who is originally from India, now finds himself teaching in the crossroads of America – the Hoosier state.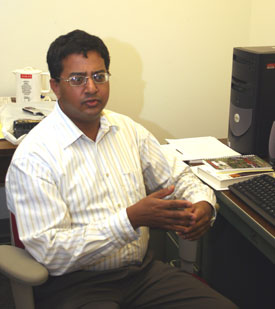 "My first impression of Wabash was that it was small but yet very professional," said Tellis. "I've been to and taught at community colleges that were actually bigger than Wabash, but I have yet to find the degree of professional conduct among both the students and the faculty that I have seen here at Wabash.
"What impressed me the most was that even though this is a small college it has a lot of resources."
Tellis earned his undergraduate degree from the University of Bombay at home in India. Tellis earned his bachelors in Indian History and Sociology and continued his studies at the University of Bombay where he earned an academic law degree.
"I didn't get involved with Rhetoric until after undergraduate school," Tellis said. "I wasn't aware that Rhetoric was an academic discipline that would be perused at the higher academic level because in India writing and speaking is dealt with at the high school level."
Tellis is eager to get involved with students. "I have taught debate but only in the context of the classroom and not as an event," said Tellis.
Tellis has just finished writing his dissertation giving a historical-rhetorical reading of Gandhi's "Constructive Programme" and expects to be awarded his Ph. D. in May of next year from the University of Illinois at Urbana-Champaign.
Sexton is a Wabash College junior and English major.