Political Science: Stephen Dyson
by Howard W. Hewitt • August 30, 2005

Share:
Dyson, BKT Assistant Professor of Political Science, came to this country five years ago to attend graduate school at Washington State University. He taught last year at St. Olaf College in Minnesota before joining the Wabash staff.
"The thing that attracted me to Wabash is obviously the strong national reputation," he said. "I wanted to teach in the liberal arts for a long time and I subscribe to the liberal arts ethos fully.
"I really like the notion of working very closely with students and establishing the type of relationships you can build in a liberal arts environment. And where is that better than Wabash College, if you want to be at a liberal arts school?"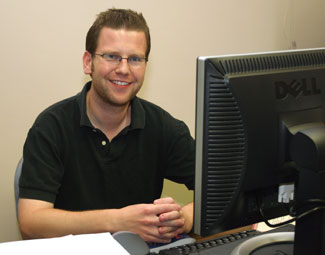 Dyson grew up in Newcastle, England, the northeast corner of the country not far from Scotland. He completed his undergraduate studies at the University of Essex. His parents were both teachers. Dyson has done extensive study on British Prime Minster Tony Blair.
"Outside the classroom I like to run, read biographies and histories to get away from political science, thought that's not far off I guess," Dyson said.
Dyson said teaching is an unusual job.
"You get to do two very different things that I don't think you can combine in any other profession," he explained. "One, is you get to work very quietly and diligently in a focused fashion on sometimes very narrow subjects with your research. I find that very interesting but it also can become oppressive after a certain period of time.
"The other side of the job is that you get to be very outgoing, expansive and social in the classroom. There are two sides to the profession that I don't think you can find in any other job."
Dyson already has strong feelings about Wabash and he finds himself excited to watch the school year evolve.
"It will be fun to see how the traditions and ethos at Wabash play out on a day to day level," he said. "It's obvious from the first day you step on campus that it's a community and institution with a very strong sense of self, an almost uniquely strong sense of self. It has very, very well established tradition which sounds fascinating. And, it's such a storied college.
"I'm anxious to see how all that plays out in the lives of the students, faculty, and the staff."