Economics: Todd Nesbit
by Howard W. Hewitt • August 30, 2005

Share:
One might not think of NASCAR, public economics, and applied micro economics all in the same sentence, but Todd Nesbit sees things in a different light.
Nesbit, a Visiting Assistant Professor of Economics, enjoys the outdoors, sports, and NASCAR. He's even managed to merge the unlikely world of NASCAR into his research and work.
Nesbit has been researching the relationship between increased safety features and drivers acting more recklessly. "People don't always realize that's about economics and I just want to try to make economics a lot more fun," Nesbit said.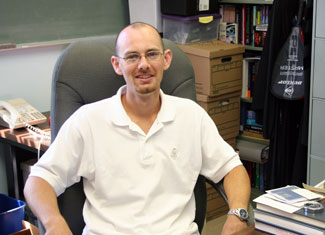 The Capital University graduate has always been a NASCAR fan. "My dissertation chair had this idea and he tried for eight years to find the data. Because I knew NASCAR, I knew where to get the data. Previously, researchers tried to use street level data where you can't control for weather; you don't know why people are driving fast, you don't know this stuff. With NASCAR, it's a controlled environment. They don't race when it's wet; there are no animals on the track, and you know why they're driving fast.
"NASCAR is a completely controlled environment where we can isolate just the effects of safety."
His research on NASCAR and driver's recklessness is under submission to Southern Economic Journal.
After having a small college experience in Columbus, Ohio, at Capital, Nesbit earned a doctorate at West Virginia University.
"I really enjoyed the small classes at Capital, the interaction with professors and even became real good friends with one professor," he said. "Even though I then went to West Virginia, I really liked the smaller atmosphere."
Nesbit is an avid golfer and played on the Capital men's tennis team. He loves watching football and most any other sport.
Both of his parents were teachers, so following in their footsteps became a natural path.
"I've always had this knack of trying to help people, but again the best way to help somebody is give them the tools to help themselves," he explained. "I'll introduce someone new idea and there will always be those people you can tell are not really catching on. You can explain things a couple of different ways and then you see it click and their eyes light up. It just makes me feel good. I just really like that aspect of teaching."
Hewitt is Wabash College's Director of New Media/Web Editor.