Frazee Is Realizing The Dream
by Brent Harris • August 25, 2005

Share:
Few were surprised when cross country runner Dennis Frazee earned All-North Coast Athletic Conference and All-Region honors as a sophomore last season. He has proven his talent at distance running from the moment he stepped on the campus.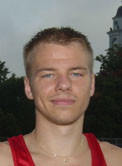 But in October of last year he received another honor --- this for his efforts as a well-rounded student-athlete. He was selected as Wabash's "Realizing The Dream" honoree.
The program, sponsored through a grant from Lilly Endowment, Inc., recognizes first-generation college students who excel in leadership, academics, and campus activities after completing their freshmen year. The Endowment provides a $1,000 contribution to the recipient, along with $1,000 to a high school teacher named by the recipient as having made a major influence on his or her decision to attend college.
Frazee selected Jim Wadkins, who himself attended Wabash and graduated in 1984. Wadkins is a social studies teacher at Calumet High School in Indiana.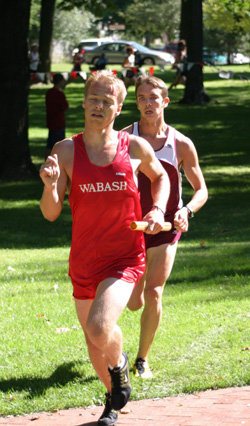 "It was a tremendous honor," said Frazee, a resident advisor, biology major, and aspiring orthopedic surgeon. "I was so happy to be able to share it with Mr. Wadkins. He's a big part of the reason I chose Wabash."
Now Frazee and his 2005 teammates are preparing for the upcoming 2005 cross country season. The Little Giants were picked to finish fifth in the preseason coaches poll. The Little Giants start their season Saturday with the annual Charlie Finch '51 Alumni Run at 9 a.m. The official start of the season will be Saturday, September 3 with the Wabash Hokum Karem.
"I think we'll have a strong team this year," said Frazee. "We have some good experience back, and with several strong freshmen it could be a surprising year. Our goal is to finish in the top half of the conference standings. We can do that with hard work and a solid team performance at the conference meet."
Harris is Wabash College's Sports Information Director.