2005-2006 Visiting Artists Series Announced
by Karen Handley • August 22, 2005

Share:
Wabash College is pleased to announce nine Visiting Artists Series events for the 2005-2006 year.
In 2005-2006, seating for Visiting Artists Series events will be by general admission, though free tickets are required for Visiting Artists Series programs
Tickets for Fall Semester events will be available September 1, 2005. Tickets for Spring Semester events will be available on January 26, 2006.
Contact the Fine Arts Center Box Office by email at boxoffice@wabash.edu; phone: 765-361-6411; or by mail at Fine Arts Center Box Office, Wabash College, P.O. Box 352, Crawfordsville, IN 47933-0352. Box Office hours are Monday through Friday, 8:30 a.m. to 12 noon and 1:30 to 4 p.m. The box office will open 90 minutes before curtain time for Visiting Artists events. Tickets not claimed at the Box Office 10 minutes prior to curtain will be released to the general public.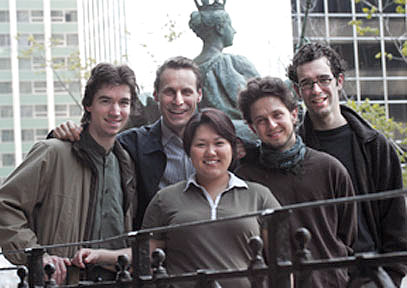 Wednesday, October 19, 2005
Lloyd Carr-Harris String Quartet—Fischoff Chamber Music Contest Winners in Concert, 8 p.m., Salter Concert Hall, Fine Arts Center
The first Canadian ensemble ever to win the grand prize at the prestigious Fischoff National, the Lloyd Carr-Harris String Quartet is perhaps the most respected young ensemble in Canada. The Quartet performs the works of Haydn, Mozart, and Beethoven, but also has recorded the work of contemporary Canadian composers.
Tuesday, November 29, 2005
Barbara Tran, A Reading, 8 p.m. Korb Classroom, Fine Arts Center
One of the most talented young poets in America, Barbara Tran's readings are both powerful and emotional. She is the winner of a Pushcart Prize, a Lannan Foundation writing residency, a MacDowell Colony Fellowship, and a Bread Loaf Scholarship, among many other awards. Poet Martin Espada calls Tran's first collection, In the Mynah Bird's Own Words, "skillful and sensual, full of pain and grace."
Sunday, February 5, 2006
Andreas Klein, piano, 4 p.m. Salter Concert Hall, Fine Arts Center
Andreas Klein has performed on the world's biggest and most prestigious stages, from Carnegie Hall to the Kennedy Center and throughout Europe, Asia, and the Middle East. A native of Germany, Klein graduated from the Juilliard School, where he studied with the legendary pianists Claudio Arrau, Nikita Magaloff, and John Perry. He has released three CDs of works by Beethoven, Berg, Chopin, and Liszt, all of which were critically acclaimed. "Klein resembles a sketch artist bringing a scene to life with quick virtuoso strokes and shading."—Washington Post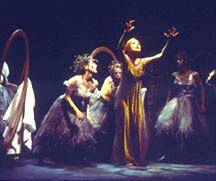 Monday, February 13, 2006
The Acting Company performance of Macbeth, 8 p.m. Ball Theater, Fine Arts Center
The Acting Company promotes theater and literacy by bringing a touring repertory of classical productions, talented young actors, and teaching artists into communities across America. Founded in 1972 by John Houseman and current Producing Director Margot Harley with members of the first graduating class of Juilliard's Drama Division, The Acting Company has performed 79 plays for over 2 million people in 48 states and 9 foreign countries. In the 2005–2006 season, The Acting Company will perform Macbeth and The Three Musketeers.
Tuesday, February 14, 2006
The Acting Company performance of The Three Musketeers, 8 p.m. Ball Theater, Fine Arts Center
Monday, March 27, 2006
An Evening with Terry Tempest Williams, 8 p.m. Korb Classroom, Fine Arts Center
An essayist and nature writer, Williams raises important issues facing our nation, particularly the environment of the American West. As she writes, "The eyes of the future are looking back at us and they are praying for us to see beyond our own time." Her best known book, Refuge: An Unnatural History of Family and Place, juxtaposes the rise of the Great Salt Lake and the flooding of the Bear River Migratory Bird Refuge in 1983 with her mother's death from ovarian cancer caused by radioactive fallout from nuclear tests in the Nevada desert. In her essays, she routinely questions America's environmental policies on public land issues, even while shining a light beyond those issues to the most deeply human.
Tuesday, March 28, 2006
A Reading by Terry Tempest Williams, 8 p.m. Korb Classroom, Fine Arts Center
Thursday, April 6, 2006
Quartet New Generation Recorder Collective, 8 p.m. Salter Concert Hall, Fine Arts Center
Founded in 1988 by four recorder players who met during their studies at the Amsterdam Conservatoire, Quartet New Generation is an award-winning ensemble dedicated to collaboration with young composers. The group, which made its U.S. debut at Carnegie Hall, proves the world the recorder's ability to be a modern classical instrument. True to their mission, members of the quartet will premiere a work by Wabash composer Peter Hulen.