New Faculty Orientation Includes Present Indiana Project
by Howard W. Hewitt • August 9, 2005

Share:
New faculty orientation took a bit of a social turn Tuesday evening with a scheduled cookout and a first look at the Present Indiana research projects prepared by Wabash students.
Wabash will welcome 12 new instructors when classes begins August 25, although most new faculty members are on campus now going through orientation. Five students who participated in summer internships for the Present Indiana Project made after-dinner presentations as the guests moved from room to room in Detchon Hall.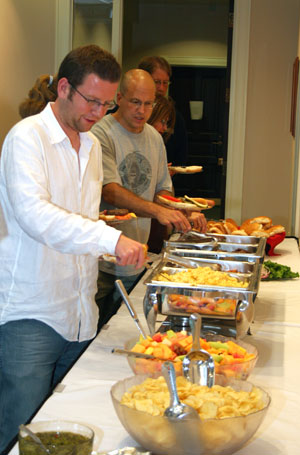 Present Indiana, funded by Lilly Endowment Inc., aims to introduce students, faculty and staff to historical and cultural aspects of the Hoosier state which will encourage them to make Indiana their home.
The five projects presented were Milan basketball, New Harmony attempt at utopia, Indianapolis Comedy Clubs, Montgomery County Natural Heritage and Hoosier Inventors. (See attached Photo Album.)
"I thought it was very well done," said Yvonne Pitts, Instructor of History. "I thought the students approached it very thoughtfully and I think they were very conscious of their audience.
"I'm really impressed with the level of research and perspective and hard work they've put into it. It makes me more excited about being here in Indiana."
For Dean Raymond Williams and Registrar Julie Olsen it was a lighter break to their busy week of leading the newcomers through the orientation schedule.
"The first thing we want to establish is the ethos of the institution which I think is different from many other institutions," Dean Williams said. "This is to help the new faculty get a running start on understanding that ethos. Part of that is Wabash's nature as a liberal arts college, the size and close relationships that faculty and students have and the expectations that our students have of faculty. That is probably different from many other institutions.
"There is another level, of course, and that's the plain practical information that any new person at a new institution needs to know – who are the people to go to get information or to get what they need to have: computer assistance, library assistance, help with registration of classes, expectations with regard to grading, submitting materials about students and all those kinds of details."
Pitts put the whirlwind schedule into perspective. "It's simply getting to know the students, getting to know the campus and surviving."
The Present Indiana students were making their first presentations following the eight-week internships. Five additional students will return to campus next week and join these five for presentations to international students who begin arriving Aug. 15.
"The repetition was probably the most difficult part," said Tom Elliott '08, who presented his research on Indiana comedy and Indianapolis-area comedy clubs. "I found I wasn't giving the same presentation every time because the audience was different every time.
"I don't think it was what I expected for the first time. The professors were a lot more interested than I thought they would be after two days of orientation. I think this was a lot more enjoyable time for everyone than I thought it might be."
Hewitt is Wabash College's Director of New Media/Web Content Editor
In photos:
On homepage: Tom Elliott shows his Indianapolis Comedy Clubs presentation to new faculty and guests.
Above: Stephen Dyson, Asst. Professor of Political Science, leads the group through the buffet line.