Metzelaars Starts Second Season With The Colts
by Sam King • July 29, 2005

Share:
Pete Metzelaars, a 1982 Wabash College graduate, has an impressive resume.
He earned it the hard way - by overachieving.
Most 16-year NFL veterans can make a living off their name or use their fame to help get them other positions in the business. They come from big-time NCAA Division I football programs and are highly touted going into the NFL draft.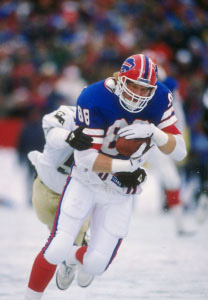 That isn't how it worked for Metzelaars, who spent his career playing for the Seattle Seahawks, Buffalo Bills, Carolina Panthers, and Detroit Lions.
Metzelaars came to Wabash after a high school career at Portage Central High School in Portage, Michigan. He was a quarterback on the football team and a center on the basketball team and wanted to continue to be a two-sport athlete in college. Metzelaars wasn't highly recruited, but had some offers from NCAA Division II and Division III institutions. He never thought he had a chance to be a professional athlete.
"I wasn't a standout, all-star kind of guy," Metzelaars said after a workout Thursday at the Indianapolis Colts' preseason camp in Terre Haute, Indiana. "I had some success, but not great success in high school so I wasn't getting recruited by any big-name schools and getting full-ride scholarship offers. It just came down to what I thought was going to be best for me and the best education I was going to get."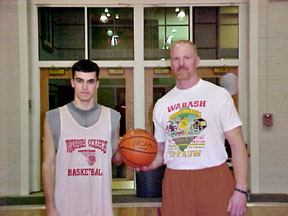 After starring for the Little Giants both on the football field as a tight end and on the basketball court as a center, Metzelaars began receiving questionnaires from NFL teams. That's when he began thinking he had a shot at playing in the NFL.
"I started thinking, geez, maybe I'll have a chance here. I had no idea it would work out as well as it did."
During Metzelaars' junior year at Wabash, he figured he could get a free-agent deal with an NFL franchise. His ambitions rose his senior year, hoping to get drafted in the lower rounds of the draft. Then, on draft day, Metzelaars received a phone call from the Seahawks to inform him that he was drafted in the third round, much higher than he thought he had a chance to be drafted.
He helped the Seahawks to a playoff berth in 1984, then was traded to Buffalo, where he would play in four consecutive Super Bowls, catching a touchdown in Super Bowl XXVI against the Washington Redskins. Unfortunately for Metzelaars and his teammates, the Bills lost the game, as well as the other three Super Bowls they advanced to.
"At that point, we were down pretty far so it was somewhat anti-climactic. But at the same time, it's like, 'I scored a touchdown in the Super Bowl.' I've got the ball at home. It's something I'll always remember."
After his final season in 1997 with Detroit, Metzelaars was back at the bottom, much like in high school, but knew he wanted to coach. Like going into college, big names weren't interested in him.
He started coaching high school football at Charlotte Christian High School in North Carolina, while working as a youth pastor at a church. Metzelaars coached two years at Charlotte Christian before deciding he wanted to start coaching at a higher level. He stayed a total of four years at Charlotte Christian.
Metzelaars began using any connections he could --- former players, coaches he played for, contacts he made while playing in the NFL --- to get a job coaching at the professional level.
"I wanted to start looking to get to a higher level of coaching with better athletes and better players, so I started trying to make end roads and connections into the NFL."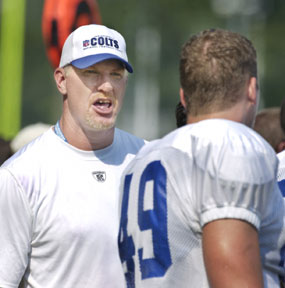 Eventually Metzelaars got an internship coaching for a month in Florida for an NFL Europe training camp. He then moved on to coach at NCAA Division II Wingate University in Charlotte, but he still wanted to coach professionals. He prepared to go to Europe to coach the NFL Europe's Barcelona Dragons for three or four months. First, he attended a summer internship program for the Indianapolis Colts.
In the summer of 2003, Metzelaars was a coaching intern for the Colts when a position became available. He was offered the job as offensive quality control and assistant offensive line coach. He stopped planning for Europe and found himself back in Indiana, where his carousel ride to the top began 25 years earlier.

Sam King is the assistant sports editor for the Journal Review.

Photos: (Top) - Metzelaars making one of his 302 receptions for the Buffalo Bills. He holds the Bills' record for receptions by a tight end.

(Middle) - Metzelaars is second on the Wabash basketball all-time scoring with 1,976 points. Here he poses with all-time leading scorer Josh Estelle '00, just before Estelle broke his record.

(Bottom) - Metzelaars at training camp in 2004. (Courtesy of the Indianapolis Star)




For more information see: