Indiana's Historic Theaters
by Joe Cooper '07 • July 19, 2005

Share:
Where can you listen to soothing classical music underneath a midnight sky surrounded by beautiful 16th century Spanish architecture and sculpture … in Indiana?
The Paramount Theatre in Anderson offers just that. Designed by famed architect John Eberson, "the Frank Lloyd Wright of theatre architecture," this atmospheric theatre is one of only twelve Eberson creations remaining in the world. Such creations are scattered from London to new Zealand..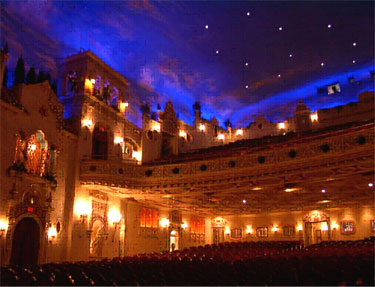 As the home to the Anderson Symphony Orchestra, one of the largest movie screens in Indiana, professional ballets, and much more, the Paramount presents its audiences not only with a stunning atmosphere, but also with brilliant performances. Still, though, the merits of this theatre reach far beyond aesthetics and entertainment.
As the home to more than 70 years of history, the Paramount's stage resonates with echoes of Louis Armstrong, Frank Sinatra, and countless other timeless celebrities. The theatre itself and the history contained within its walls now serves as a testament to an era of elegance. A time when entertainment served not only to entertain but also provided a cornerstone for culture.
So how could old Blue Eyes be wrong? The Paramount has attracted the best performers and enthralled countless imaginations for decades with its architecture, its entertainment, and its history. And all of this in a small town in Indiana.
Obviously, Indianapolis has its share of historic theatres as well. The Murat Theatre features touring musical acts, comedians and the popular Broadway Series. The Indiana Repertory Theatre in the heart of the downtown area presents a variety of serious theatrical performance. The Hilbert Circle Theatre on the circle in downtown is home to the Indianapolis Symphony Orchestra.
And another of Eberson's theatres can be found in Terre Haute. The Indiana Theatre is now a movie house.
So take a step back in time with some of the best performances of today at the historic theatres of Indiana.
Cooper '07 is from Walkerton, Indiana.