Wabash Students Reflect on Summer Ecuador Program
by Neal Monroe '08 • July 18, 2005

Share:
Earlier this summer, a group of Wabash men traveled to Ecuador to study Ecuadorian literature, political science, ornithology, and to familiarize themselves with Ecuadorian culture and the Spanish language.

From May 23 to June 22, the following Wabash students: Jay Leatherman '07, Josh Dirig '07, Filip Drambarean '08, Nick Leon '08, Alex Loucks '08, Torm Hustvet '08, Reynaldo Pacheco '06, Andrew Dits '07, John Garrett '08, Daniel Shirey '07, Robert Boarman '08, Lee Johnson '08, Carlos Guevara '07, Branko Alavanja '07, Mauricio Solano '07, and Neal Monroe '08, studied at La Pontifica Universidad Católica de Ecuador (PUCE) in Quito.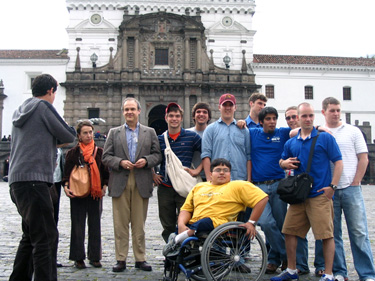 For two weeks, the Wabash students attended an accelerated Spanish class and a cultural class each morning. Both classes provided a learning experience for students to interact with Ecuadorian students, and learn from hands-on experiences outside of the classroom. In the afternoons, the students visited local museums and cultural centers, such as the museum of Madam Augusta Urrutia, the art studio of Guayasamin, and the cathedral La Companía. During the time period that the Wabash students were not in classes, they interacted culturally by traveling throughout Quito and sometimes to neighboring cities and villages.
After two weeks of classes at PUCE, the students divided into three groups to complete their modules in Ecuadorian literature, political science, or ornithology. Both the literature group and the political science group traveled to Cuenca, Ingapirca, Guayaquil, Baños de Aguas Santas, Puyo, Cayambe, and Otavalo to culturally interact and meet with authors, diplomats, and other individuals of interest. The ornithology group traveled to the Napo River and the Yuturi River in the Amazon Rainforest, Puerto Lopez, Montecristi, Isla de la Plata, Manta, and the Cloud Rainforest to study plant and animal wildlife, especially birds.
Each student in the program lived with a host family, which provided him the opportunity to be completely submersed in the Spanish language and Ecuadorian culture. This opportunity allowed these students to meet new friends and contacts abroad. Still, most of the students continue to communicate with their host families and friends, which has broadened the communication network of the Wabash community. Also, submersion into the Spanish language has provided each student the opportunity to better his ability to speak Spanish. Frequently, the Wabash students could be heard saying "I have learned more Spanish in one week than I have in one year."
The following is a sample of the feedback from some of the Wabash students who participated:
"Going to Ecuador was quite possibly one of the most amazing experiences
I've ever had. Being completely immersed in a culture, a language, and a life that is so different was absolutely incredible. I hit the ground running as I immediately was forced to communicate effectively with my host family and others around me, and as a result, my Spanish skills skyrocketed. I am so grateful and extremely thankful for the opportunity to experience Ecuador and some of the greatest facets of the country in such a limited time period. Being in the Amazon jungle was the highlight of my trip as I experienced for the first time the feeling of being so far away from anything modern, including civilization; it was an awesome adventure and an unforgettable journey." –Filip Drambarean '08
"I never thought that I would be able to visit such amazing places as the Amazon and tropical islands. All of the sites and wildlife that I had never seen before were all amazing. This trip is definitely a highlight of my Wabash experience so far. Experiencing another country's people and environment was a unique learning opportunity that I'm happy I took advantage of." – Torm Hustvet '08
"I thought the trip was one of the best experiences of my life. It was really eye-opening. It really made me appreciate everything I have here in the U.S. I used to take a lot of basic items of necessities for granted, but not anymore after seeing how many people don't have those things." - Nick Leon '08
"The word I would use to describe my overall experience in Ecuador would be "overwhelming". All in all between classes at the Catholic University in Quito, Ecuador, the host family stay, and the module experience (including biology, literature, or political experience), which entails traveling all around Ecuador, a student obtains a thorough background of the Spanish culture while learning the language in an immersed environment. As I reflect on my experience furthermore, I would say the most rewarding and educational experience took place during the host family stay. It is amazing how an Ecuadorian family can take a stranger into their home and treat them with the utmost respect, generosity, and love, willing to accommodate the students stay to make them feel more comfortable. Being a Spanish major, I received a great deal of educational value out of the trip. One more thing I will always remember about the trip is how beautiful the country is and how helpful and friendly the people of Ecuador are. As I close, I would like to thank Wabash College for giving me the opportunity to experience and learn Ecuadorian culture while studying the language more closely." - Josh Dirig '07
"This trip was my first experience out of the country and I learned a lot from it. This experience helped me see how well off we are in the U.S. and how much influence our culture has on others and also what other people think of U.S. citizens (and gringos). This was also a great chance to learn more Spanish and practice my poor classroom Spanish. All in all, it was a great cultural learning experience and I would gladly do it again."
- Alex Loucks '08
Now, I must interject with a meaningful question posed by Filip Drambarean '08, "Who goes to Ecuador!?". Why Ecuador? Believe it or not, the country is a land of extreme cultural, political, and biological diversity. In my opinion, Ecuador is a country of unrealized educational opportunities. For instance, why do students travel to the United Kingdom to study biology? I'm sure that you can receive a great education there, but what is the matter with Ecuador? The country is included in region of the Amazon Rainforest, which is the largest biologically diverse tropical rainforest in the world with many opportunities for scientific research and biological exploration. Instead of reading from a text book, would it not make more sense to travel to a biologically rich environment located "right in your backyard?" An underlying goal of the program is to help make these opportunities realized and available to the Wabash community. With the knowledge gained abroad in Ecuador, the students are excited to apply their experience in and out of the classroom, and to add a little Ecuador flair around campus.
The bottom line is that the Ecuador trip was an incredible experience, which has left many of the students with ideas of returning. No individual can better express the feelings of the students than sophomore Alex Loucks '08 when he said, "What do I have to do to come back?" Currently, the Ecuador Wabash students are gathering ideas to do independent research next summer with the program. The program is still young and not extremely popular at Wabash yet, but I strongly believe that it will be in the future. If you are a student interested in attending, drop off an application at Detchon Hall. I guarantee that you will not regret it.
In photo: The students participating in the 2005 Ecuador program get organized for a group photo.