2005 Monon Bell Game to Air Again Nationally on DirecTV
by Jim Amidon • June 29, 2005

Share: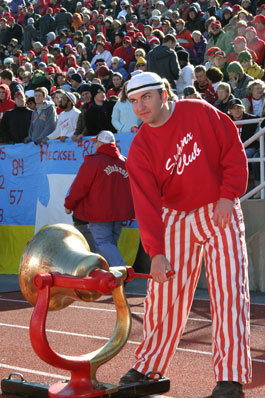 The countdown is on to the 112th Monon Bell Classic, and again this year, finding the telecast of the Saturday, November 12 game will be as simple as 321. The battle between Wabash and DePauw -- tied at 51-51-9 -- will be available live nationwide via DirecTV on channel 321.
Fans in Central Indiana will also be able to tune in to WHMB (Channel 40), which will carry the game live at 1 p.m. The announcement was made by Ken Owen, director of media relations at DePauw; and Jim Amidon, director of public affairs and marketing at Wabash.
"The feedback we received from our fans last year was fantastic," says Amidon. "In fact, it's safe to say that last year's telecast created the most glitch-free arrangement we've ever had, in terms of alumni being able to find the game on DirecTV and watch it with friends and foes alike.
"When you consider that we have about fifty alumni parties all across the United States, putting the game on a system that's easy to tune in is key," says Owen. "Anyone who has access to a DirecTV signal -- and you'll find it at almost any establishment in the United States that shows NFL games on Sundays -- will be able to pull in the game. It's easy and reliable, and the quality is superb whether you're across the state or on one of the coasts."